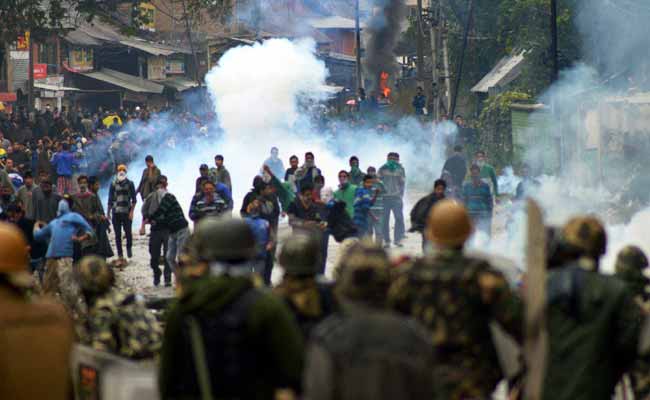 Srinagar:
Clashes took place today at Anantnag in Jammu and Kashmir where thousands of mourners gathered for the funeral of Zahid Ahmed, a young trucker who was attacked 10 days ago over cow slaughter rumours. Chief Minister Mufti Mohammad Sayeed has ordered a fast track inquiry into the attack.
Here are 10 developments in the story:
Soon after the funeral at Zahid's village in Anantnag, 56 km from Srinagar, protesters blocked the highway and threw stones at security forces, who retaliated with tear gas. The police and security personnel have been instructed not to open fire on protesters.

Zahid Ahmed was attacked on October 9 and his truck set on fire by eight people in Jammu's Udhampur after rumours that three cows had been killed. He died in Delhi yesterday.

Officials say tests showed that the cows had died of food poisoning and rumours of slaughter were circulated to provoke communal tension in the Hindu-majority area. "We want the most severe punishment for the accused," said Zahid's father Ghulam Rasool Bhatt.

Nine men, all locals, have been arrested for the attack on Zahid. Sources say three of them belong to political parties and one is a suspended police constable.

There were clashes on Sunday too, hours after news of Zahid's death. Angry protesters in Anantnag threw stones at the police, who used batons and teargas to push them back.

Sources say Prime Minister Narendra Modi's Office is monitoring the situation in Kashmir and believe that Pakistan is fishing in troubled waters.

Exams in the Kashmir University and schools were postponed and there was a shutdown in much of the Valley.

The opposition National Conference of former Chief Minister Omar Abdullah has blamed the BJP, which rules Jammu and Kashmir in alliance with the People's Democratic Party (PDP). Mr Abdullah said it was a "needless death" in the name of beef ban for which the "BJP and its allies" were responsible.

Jammu and Kashmir has seen massive protests after the High Court in September ordered the police to enforce a decades-old beef ban that had never really been followed strictly. On Friday, the court set aside its earlier order, commenting that there were many laws that were "dead and fossilized."

Independent lawmaker Engineer Rashid, who compared the attack on Zahid to the mob killing of a Muslim man in Uttar Pradesh's Dadri over beef rumours, was attacked with black ink in Delhi today. Earlier this month, Engineer Rashid was thrashed by a group of his BJP colleagues for hosting a beef party.