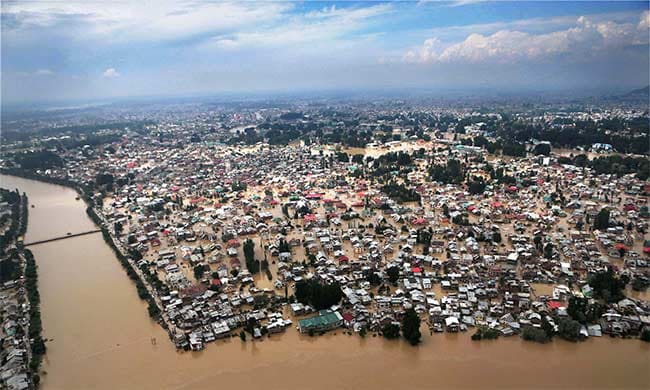 Srinagar/Jammu:
As waters recede, Army chief General Dalbir Singh Suhag has said communication and connectivity is now the biggest challenge in the massive rescue operation in flood-ravaged Kashmir, where about six lakh people are still stranded. Chief Minister Omar Abdullah has said these are the worst floods in a century.
In an exclusive interview to NDTV in Srinagar, Gen Suhag reiterated that the "Army will be on the job till last man is rescued." Nearly 80,000 people have been rescued in a non-stop, tireless operation by the armed forces and the National Disaster Response Force or NDRF.

Meanwhile, the Election Commission has cancelled a visit to the state due to the flood situation and has said that the poll process is likely to be delayed. The state is scheduled to go to the polls later this year.


In some places in Srinagar, angry residents have alleged that help has reached them late. Two rescue workers of the National Disaster Response Force (NDRF) were attacked with sticks by some residents and their boat was punctured. One of the workers is reported to be seriously injured and has been flown to Chandigarh for treatment.

Four Air Force helicopters, carrying supplies could not land at a Srinagar helipad after crowds threatened to stone them. "Aggressive crowds mean we are facing difficulties in rescue work," said OP Singh, chief of the NDRF. General Suhag, reiterated, "We understand people are upset, we are trying our best."

Almost 200 people have died and many have been trapped in their homes or places that they took shelter in for over three days. A breakdown of communication lines caused more panic as people have been unable to contact those stranded. Some phone lines have now been restored in Srinagar.

Chief Minister Omar Abdullah has described the floods as the worst in 109 years, adding, "how do you plan for something that hasn't happened in 100 yrs?". "I understand the anger and frustration but it is not true that nothing is being done. There will always be some dissatisfaction when something like this happens. I know people have lost everything, we promise to rehabilitate them. No relief and rehab camps can be perfect. We are doing all we can," he said.

The Army Chief said the National highway to Avantipora will be opened soon, making it easier to reach supplies to the interiors. On Tuesday, the Srinagar-Leh National Highway connecting Ladakh with the Kashmir Valley was reopened for traffic. The Army said the J&K national highway, which links the valley to the rest of the country will take about four to five days to reopen.

Outside Srinagar airport, about 5000 migrant daily wage workers from Bihar and Uttar Pradesh have been sitting in protest outside Srinagar airport. They say they have had no food to eat in three or four days and are demanding that they be put on a plane back home.

The Home Ministry has set up a control room in Srinagar to monitor flood relief operations. The Google Person Finder App can also be used by people scouring for information about their missing family members. The app link takes the user to a page where they can both post messages about someone they are looking for as well as post information about a survivor.

The situation in the Jammu region has stabilised and the focus is now on providing relief material on the ground, officials said. Around 68 relief camps have been set up in the Jammu sector. The skies have cleared and water levels have come down although road connectivity in several parts are in need of restoration.