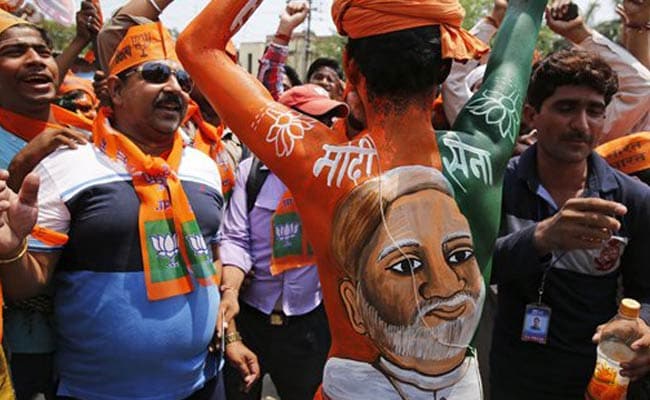 New Delhi:
The BJP and its allies are set to form the next government under Narendra Modi. They are leading in over 302 seats, a safe majority. The Congress faces a rout; in Amethi, Rahul Gandhi is trailing.
Here are the latest developments:
The 33-year-old BJP is leading in 257 seats, its best performance ever. Narendra Modi, the BJP's prime ministerial candidate, is leading in both seats he contested - Varanasi and Vadodara.

The markets are cheering the trends. The Sensex opened 800 points up and zoomed to a record 25,000.

The Congress is trailing in 148 seats that they had had won last time. The BJP is gaining most of those seats. "I admit it's looking bleak for the Congress," party spokesperson Abhishek Manu Singhvi told NDTV.

In an early result that tells today's story, Ajit Singh of the Rashtriya Lok Dal, a western Uttar Pradesh strongman and Congress ally has lost in his constituency Baghpat.

In crucial Uttar Pradesh, the BJP is way ahead and is gaining seats. The Congress, the Samajwadi Party and the BSP are struggling in single digits. One of the few seats the Congress is ahead in is Rae Bareli, where party chief Sonia Gandhi is leading.

In Seemandhra, Chandrababu Naidu's TDP and Jagan Reddy's YSR Congress are in a neck and neck contest. In Telangana, the TRS has taken an early lead.

In Tamil Nadu, J Jayalalithaa's AIADMK is giving no other party elbow room in the leads available. The Congress is leading in one.

In Karnataka, the BJP is leading. In Kerala the Congress-led UDF and the Left-led LDF are neck and neck.

Narendra Modi's Gujarat, which hopes to give the country its next Prime Minister, looks set for a BJP sweep. As does BJP-ruled Madhya Pradesh.

The marathon six-week parliamentary election saw a 66 per cent voter turnout, a new record; 55.16 crore people voted in 543 Lok Sabha constituencies.