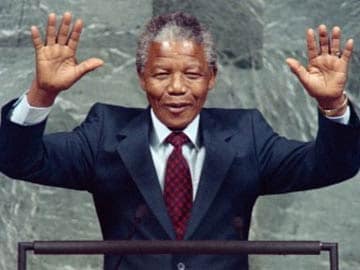 South African anti-apartheid hero Nelson Mandela died peacefully at home at the age of 95 on Thursday after months fighting a lung infection, leaving his nation and the world in mourning for a man revered as a moral giant. Here are 10 of Mr Mandela's most memorable quotes:
Here are his top 10 quotes:
"Difficulties break some men but make others. No axe is sharp enough to cut the soul of a sinner who keeps on trying, one armed with the hope that he will rise even in the end."

"It always seems impossible until it's done."

"No one is born hating another person because of the colour of his skin, or his background, or his religion. People must learn to hate, and if they can learn to hate, they can be taught to love, for love comes more naturally to the human heart than its opposite"

"I learned that courage was not the absence of fear, but the triumph over it. The brave man is not he who does not feel afraid, but he who conquers that fear."

"Lead from the back - and let others believe they are in front."

"Do not judge me by my successes, judge me by how many times I fell down and got back up again."

"I could never reach the standard of morality, simplicity and love for the poor set by the Mahatma...While Gandhi was a human without weaknesses, I am a man of many weaknesses."

"It is never my custom to use words lightly. If 27 years in prison have done anything to us, it was to use the silence of solitude to make us understand how precious words are and how real speech is in its impact upon the way people live or die."

"I have cherished the ideal of a democratic and free society in which all persons live together in harmony and with equal opportunities. It is an ideal which I hope to live for and to achieve. But if needs be, it is an ideal for which I am prepared to die."

"We hold it as an inviolable principle that racism must be opposed by all the means that humanity has at its disposal. Wherever it occurs it has the potential to result in a systematic and comprehensive denial of human rights to those who are discriminated against. This is because all racism is inherently a challenge to human rights, because it denies the view that every human being is a person of equal worth with any other, because it treats entire peoples as subhuman."
Post a comment