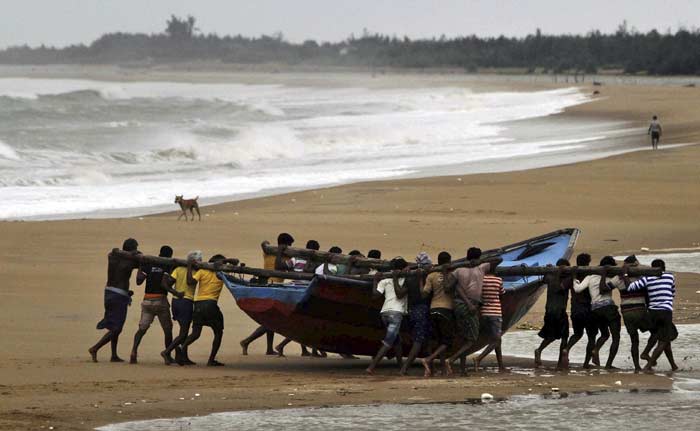 New Delhi:
Cyclone Hudhud, a "very severe cyclonic storm" closing in on Andhra Pradesh and Odisha, will make landfall earlier than expected. It is expected to hit near Visakhapatnam between 10.30-11.30 am and the windspeed may reach 180 kilometres per hour or kmph.
Here are the latest developments:
Prime Minister Narendra Modi chaired an emergency high-level meeting on Saturday to review preparedness for the cyclone and asked officials to work with the concerned state governments to ensure "zero casualty".

The Ministry of Home Affairs has also launched a 24-hour helpline for cyclone-related information.


Around 150,000 people have been evacuated in Andhra Pradesh to high-rise buildings, shelters and relief centres, said senior disaster management official Hymabati. A further 50,000 may still be moved to safety, she added.

Officials said 370 relief camps have been opened in five districts - Srikakulam, Vizianagaram, Visakhapatnam, East Godavari and West Godavari - where 396 villages are likely to be affected.

Authorities have closed the Ichapuram-Kakinada national highway for traffic. Kakinada-Uppada highway in East Godavari district was damaged as water gushing out of sea due to high waves inundated the road. Fishing operations have been suspended while highest warning signal has been hoisted at the ports in the region.

In neighbouring Odisha, authorities were more worried about torrential rains than gusting winds which were expected to lose speed by the time they hit the state later today.

"We are expecting flash floods and heavy rainfall after the cyclone hits," said PK Mohapatra, special relief commissioner of Odisha, where more than 300,000 people in eight districts would feel the storm's force.

The National Disaster Response Force (NDRF) is airlifting a number of large metal and wood cutters from New Delhi to Andhra Pradesh and Odisha and has increased the strength of its relief teams on standby from 39 to 44. The saw-cutters will be used to tear up big trees and other metal objects likely to be uprooted and scattered by the gusty and ferocious winds.

The East Coast Railway has decided to cancel the services of 38 trains on the Bhubaneswar-Visakhapatnam route from 6 am today. "We do not want even a single casualty," said a railway official, adding, "The entire section would be closed to all mail, express and passenger trains".

A year ago, a severe cyclone called Phailin battered the same region, also on October 12. Strong disaster preparedness, including the evacuation of nearly one million people to cyclone shelters, helped save the day.