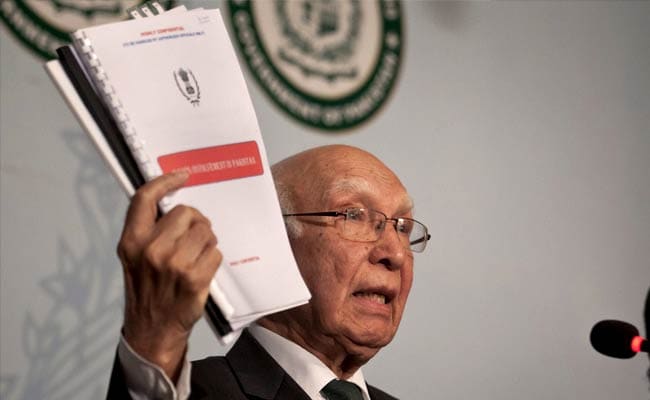 New Delhi:
India today said Pakistan's National Security Advisor Sartaj Aziz was welcome but talks must only be on terror and Kashmiri separatists must not be made a third party. Pakistan has to give an assurance by tonight or talks are off, Foreign Minister Sushma Swaraj declared.
Here are the latest developments in the story:
"If they are willing to come, we welcome them but we want an assurance from Pakistan that talks will only be on terror and the NSA will not meet the Hurriyat," Sushma Swaraj told reporters.

India has said it will not tolerate Pakistan meeting with Kashmiri separatists or bringing up Kashmir in the NSA talks.

Hours ago, Sartaj Aziz said Pakistan was willing to talk without such pre-conditions, and added: "India has not formally cancelled talks, so will go and make the best of it."

Ms Swaraj said Kashmir could not be a part of talks as it had been agreed in discussions between Prime Minister Narendra Modi and Pakistani premier Nawaz Sharif in Ufa that talks between the National Security Advisors would only be on terror.

Pakistan government sources have said that given India's terms, it is unlikely that the talks will take place.

Earlier today, Kashmiri separatist leader Shabir Shah was detained as he arrived in Delhi for a meeting with Sartaj Aziz.On Thursday, three separatists including hardliner Syed Ali Shah Geelani were placed under brief house arrest, in what sources called a message that the government would not allow separatists to meet with the Pakistani delegation.

Last year, India cancelled talks between Foreign Secretaries after Pakistan was adamant about a similar consultation with Kashmiri separatists.

India intends to confront Mr Aziz with evidence of audacious Pakistani-origin terror attacks, including a recent strike on a military convoy in Udhampur in Jammu, which ended with Pakistani terrorist Naveed being captured. The Pakistani NSA will also be shown a new picture that proves Dawood Ibrahim, one of India's most-wanted terrorists, lives in Karachi.

Pakistan, on the other hand, plans to highlight its claim of India's instigation of insurgency in its Balochistan region.

Sushma Swaraj said: "They will show us a dossier, we will show them a zinda Pak terrorist, Naveed."