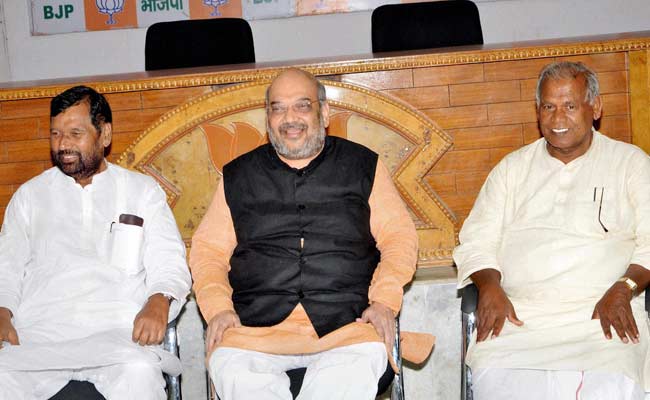 Patna:
Over the last month after it was handed a humiliating defeat in Bihar by the Nitish Kumar-led Grand Alliance, the state BJP has held a series of meetings and analysed feedback to decipher what went wrong for it in the crucial election.
Here are some the reasons the state BJP believes it lost:
Post-election analysis shows, say BJP leaders that the Grand Alliance of Nitish Kumar, Lalu Yadav and the Congress mapped social and caste factors more effectively in their selection of candidates for the 243 assembly seats in Bihar. The BJP tied up with regional players with backward caste support like Jitan Ram Manjhi to supplement its traditional upper caste vote-base, but polled 10 lakh fewer votes than last time.

While the Grand Alliance, as expected, consolidated the Yadav, Muslim and Kurmi votes with the coming together of Lalu and Nitish, the BJP was surprised that its regional partners Hindustani Awam Morcha, Lok Janshakti Party and Rashtriya Lok Samta Party could not manage to hold their respective traditional vote bases among the backward castes, who had voted for the NDA en mass only last year in the national election.

The state BJP assesses that losing election strategist Prashant Kishor to Team Nitish was a huge blow. Mr Kishor, who created some of Prime Minister Narendra Modi's most effective election campaigns in the past, crossed over to the rival camp for this year's Bihar election and, the BJP reckons, knit a strategy that outsmarted them in every department.

Rashtriya Swayamsevak Sangh or RSS chief Mohan Bhagwat's suggestion just before the assembly elections that the reservation policy be reviewed, is seen by state BJP leaders as having irreparably damaged the party's prospects in a state where 50 per cent of the population benefits from affirmative action. Prime Minister Narendra Modi tried damage control, but Nitish and Lalu had by then seized the advantage, alleging that the BJP planned to end reservation. The RSS is the BJP's ideological mentor.

BJP leaders have feedback that organising mega rallies for PM Modi in the middle of the campaign was a huge strain on the organisation at a time when local candidates needed to focus on their own campaigns. For the first time, the BJP lost in several places like Bhagalpur, Samastipur, Aurangabad, Bettiah and Sitamarhi where the PM campaigned. State party leaders do admit though that they pressured the PM Modi to address more rallies.

The strategy of targeting Lalu Yadav proved counter-productive, galvanising his vote base of Yadavs in his favour, Bihar BJP leaders say. Central leaders who built the BJP's Bihar strategy, they say, were not in sync with the state's ground realities and point to the fact that Nitish Kumar had in the past never mentioned Lalu Yadav by name in campaigns even at the height of their political rivalry.

The Grand Alliance, say BJP leaders, played a trump card by projecting Nitish Kumar as candidate for chief minister, exposing confusion in the NDA, where there were many claimants for the top post. The BJP-led alliance chose not to project a chief ministerial candidate, seeking votes for PM Modi and its development agenda.

The state BJP leaders believe that the strategy of projecting only PM Modi and party chief Amit Shah was effectively countered by the Grand Alliance in its Bihari vs Bahari (outsider) campaign. They also say that Lalu Yadav's full backing, eventually, of Nitish Kumar for chief minister worked tremendously in favour of their alliance, with the extremely backward caste or EBC voters, traditionally wary of Mr Yadav, re-assured that Nitish Kumar would be in charge.

BJP leaders have also assessed that hiring too many helicopters, issuing back to back TV advertisements and launching video raths was just not enough ammunition to counter the Grand Alliance strategy of projecting Nitish Kumar who faced hardly any anti-incumbency sentiments despite being in power for the last ten years. Bihar BJP leaders believe that projection of a chief ministerial candidate and giving more importance to state leaders in decision making could have worked better for the party.

The state BJP leaders say they had not reckoned with Nitish Kumar's calculated moves just before the elections like making peace with employee federations on protest, salary hikes for teachers and schemes like cash for bicycles, uniforms, sanitary napkins for girls, scholarships and subsidy on diesel. These, they say, turned out to be game changers.