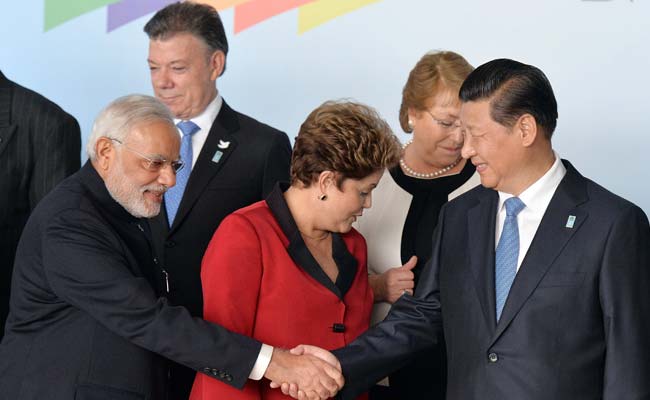 Ahmedabad:
Chinese president Xi Jinping arrives in Gujarat today for a three-day visit that will focus on ramping up trade and investment and addressing a long-standing border dispute between the two countries amid a new face-off at the Line of Actual Control. Prime Minister Narendra Modi, who celebrates his 64th birthday today, is in Ahmedabad to welcome Xi. This is the first visit to India by a Chinese president since 2006.
Here are the latest developments:
PM Modi and President Xi will share a moonlight dinner tonight in a Swiss luxury tent on the banks of the river Sabarmati. Xi will be treated to a 150-dish Gujarati banquet and will also join PM Modi on a walk down the riverfront. (In PM Modi's Gujarat, 'Khaman' and 'Dhoklas' for Chinese President)


The Chinese president's visit comes in the middle of a new face-off at the border after more than 200 soldiers of the People's Liberation Army reportedly crossed into Indian territory in Ladakh earlier this week and set about building a 2-km road at the Chumur sector. (As PM Modi Hosts Xi in Gujarat, Face-Off At Border)


India took a strong stand at a flag meeting initiated by China on Tuesday and said it would firmly defend its 3,500-km border with the country. The meeting was inconclusive. Another meeting may be held today, say sources. (India and China Look to Put Knotty Relations on New Footing)


The decades-old border conflict is expected to figure in talks between PM Modi and Xi in Delhi. In a newspaper article today, the Chinese President said, "Progress has been made in the negotiations on the boundary question. The two sides are working together to maintain peace." (On PM Modi's Birthday, Blessings from Mother, Dinner with China's Xi)


India is also expected to raise another point of contention - China's policy of issuing stapled visas to Indians from Arunachal Pradesh. Sources say India may assert that China must recognise a "one India policy". As the row continues, the two countries will not sign a deal today to liberalise Visas to China for business. (India, China Cooperation Will Help Develop the World: PM Narendra Modi)

The two leaders are, however, expected to sign pacts on infrastructure and railways.


On Tuesday, PM Modi said the relationship between the two countries "goes beyond plain arithmetic", and summed up ties with a new mantra - "Inch (India and China) towards Miles (Millennium of Exceptional Energy)." ('Inch Towards Miles': PM Modi's Take On Ties With China Before Xi Visit)

PM Modi is determined to build closer relations with the world's second-largest economy, whose leader comes with pledges to invest billions of dollars in railways, industrial parks and roads. (Xi Jinping's India Visit Highlights Changing Power Dynamics)


In a sign that India wants the Xi visit to be a success, New Delhi has reportedly asked Tibetan spiritual leader the Dalai Lama to reschedule an event so that it would not clash with the Chinese president's trip to the capital.

Recently, during a visit to Japan, Mr Modi was seen to have taken a swipe at China when he said foreign policy based on expansionism and maritime incursions are the signs of "18th-century" thought.