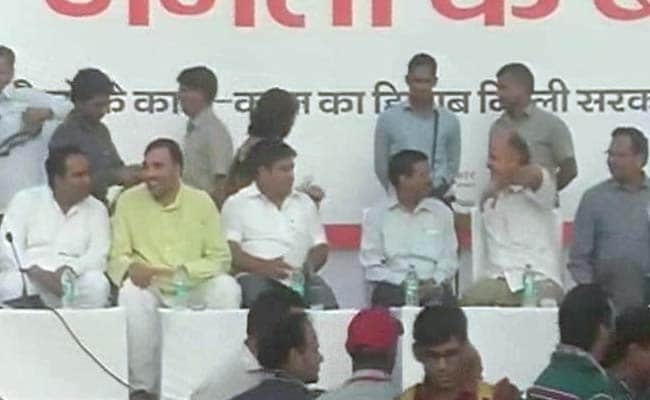 New Delhi:
Delhi Chief Minister Arvind Kejriwal, marking 100 days in office in the shadow of an epic power struggle with the Central government, pledged in a public cabinet meeting today to "take back powers from the Centre within this term."
Here are 10 developments in the story:
Mr Kejriwal held an "open cabinet meeting" at a park in Connaught Place in the heart of Delhi, where he and his ministers listed their plans for the capital. The turf war with the Lieutenant Governor over Delhi's powers, however, dominated their agenda.

"I want to work with the Centre, not fight. Dictatorship through notifications is not the way. The BJP got three seats and they can't stomach this," said Mr Kejriwal, whose Aam Aadmi Party won the other 67 seats in the 70-member Delhi assembly.

The Chief Minister was referring to the Centre's notification on Friday backing the Lieutenant Governor and saying that he does not need to consult the Delhi government on key appointments.

A Delhi High Court ruling earlier today has bolstered AAP; the court said that the state anti-corruption unit will report to the Delhi government and the Lieutenant Governor is "bound to act upon the aid and advice of the Council of Ministers."

"I congratulate you (Delhi). When God is with you, you don't have to worry who's against you," Mr Kejriwal said.

Tomorrow, the AAP government has called a special two-day emergency session of the Delhi assembly to discuss what many believe is a constitutional crisis in the making. If the Delhi assembly rejects the Centre's notification, it may bring President Pranab Mukherjee into the picture.

AAP alleges that the ruling BJP is trying to govern Delhi through the Lieutenant Governor, who acts as the Centre's representative in the capital and is vested with significant powers as Delhi is a Union Territory and not a full state.

The war in Delhi intensified over a week ago, when the Lieutenant Governor appointed IAS officer Shakuntala Gamlin as acting Chief Secretary for 10 days. The Chief Minister had described Ms Gamlin as a "lobbyist for power companies" and had said that Mr Jung has no right to appoint officers without his consent.

In retaliation, Mr Kejriwal sacked the officer who signed off on the Lieutenant Governor's decision, and filled key posts with his preferred candidates. Mr Jung declared all the appointments void.

Mr Kejriwal says Delhi must be granted full statehood as key departments like law and order and land are beyond the elected government's jurisdiction.