"So, you're Defence Editor? I'm told Obama, your big ally, was very embarrassed when he saw only Russian weaponry when he was guest at your Republic Day parade."
"Why would he be embarrassed?" I asked Yang Rui, the host of
Dialogue
, described as the top-rated English news show on the state-run China Global Television Network that beams around the world.
"Here in China, unlike India, we make the best weaponry. Our own. We don't rely on Russian imports."
"Oh really?" I said. "Your 'Kilo' class submarines are Russian. So are ours. Your Sukhoi-30 fighters are Russian. So are ours. The radars on your warships are Russian. So are ours. I can go on," I said bewildered by the tone of Rui's observations. I had known him for precisely five minutes and yet, he felt familiar enough to attempt to put India's armed forces in their place.
"Game on," I thought to myself - two can play this boys-with-toys game for armchair Admirals.
And then it struck me that Rui was playing another game - he was assessing me to see my responses - was I aggressive? Would I respond to provocation? Would I be quiet and amenable?
That's because in less than 24 hours, CGTN was about to take a leap of faith - put me in the anchor seat alongside Rui to co-anchor the premier show on their network -
Dialogue
. It had never happened before - an Indian and a Chinese anchor sitting next to each other - one bound by protocol and state control, and the other bound essentially by the belief that asking questions, any question, was my democratic birthright.
For Rui, the timing of all this would have been a challenge. For weeks, media in India and China have been reporting the Doklam Plateau standoff between the armies of the two sides with diametrically contradictory messages - Chinese media, mostly mouthpieces of the government, have threatened India with war. Some Indian media have been convinced that if war were to happen, China would lose. The rhetoric on either side of the border came to symbolize the fundamental, time-tested differences that remain between the two Asian giants.
And then, in a matter of hours on Monday, the crisis ended. There was a "disengagement" - though neither side has shared any real details. The troops in the midst of the standoff went away, leaving both Indian and Chinese media declaring victory for the side they chose to cheer for.
It was then that someone somewhere in China's state-run China Global Television Network decided to do something no one had done before. Invite me, an Indian newscaster, to co-anchor their leading talk show just 48 hours after Doklam ended. To be sure, I was already in Beijing, at the invitation of the same network, to co-anchor a show with 4 other anchors on the forthcoming BRICS summit in Xiamen, a showpiece event for China being attended by the leaders of Brazil, Russia, India, China and South Africa (hence BRICS) and had already been a guest on one of their shows discussing the Doklam crisis which had ended earlier that day.
But co-anchoring a show with 4 other presenters and co-anchoring a talk-show with perhaps China's leading presenter are all together different things.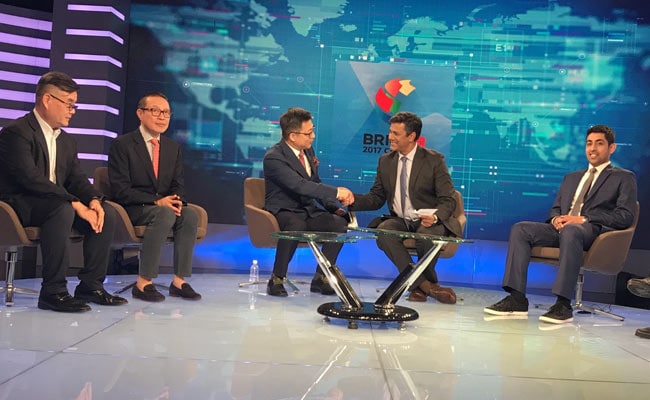 It was clear that this programme would have an edge. And it could go two ways - a feisty debate, as I hoped, on the state of India-China relations, or it could turn out to be an attempt by my Chinese co-anchor to control the flow of the programme to push his government's agenda. How on earth could a state broadcaster be expected to do a show with an independent private news network?
As it tuned out, CGTN developed cold feet overnight on the topic.
Rui and I were supposed to do a show
"Going Beyond Doklam"
and look at the state of Indo-China relations. Rui sent me a We Chat message in the morning (most Chinese citizens use online platforms like We Chat - WhatsApp is partially blocked and Facebook, Twitter and Google are banned in China) - "My advice: we flip the page on Doklam." Later, he would message me, "My advice is we refuse to be taken hostage by nationalistic sentiments on this occasion. This discussion promises to be a worldwide dialogue, not a venue for a narrow bilateral debate on our bilateral issues." In simple terms, Rui wanted the show to be focused on the forthcoming BRICS summit in Xiamen, not on any left-over India-China baggage I may choose to address.
This was, obviously, a problem for me as an independent journalist. While the prospect of Brazil, Russia, India China and South Africa coming together to form a challenger to the G-7 grouping was all very well, BRICS cannot do without unity between India and China. Today, India and China have a monumental border dispute, India is opposed to China's Belt and Road trade initiative, is concerned about Beijing blocking Delhi's entry into the Nuclear Suppliers Group and its reluctance to name Masood Azhar and Hafiz Saeed as global terrorists. China's establishment of the China-Pakistan Economic Corridor (CPEC) cuts through Pakistan-Occupied Kashmir and is considered a threat to India's sovereignty.
Was I seriously expected to whitewash the most contentious elements of the India-China relationship, issues that form a clear undercurrent in any BRICS process that involves India and China?
My conscience was clear. Yes, I would refer to BRICS and the promise the grouping held, but I would not see BRICS in isolation - BRICS is driven by India and China and the dynamics between the two countries cannot be ignored.
CGTN may be a state broadcaster. NDTV is not.
I walked into CGTN's gigantic Beijing building in the afternoon. We were set to roll at 1 pm.
Being an anchor on a television news show is essentially the same anywhere in the world. You mostly anchor out of a studio, there is a teleprompter in front of you, a talkback inserted in your ear for your director to speak to you and a microphone cable attached to whatever it is you may be wearing. It seemed all very familiar.
"Are you nervous?" Rui asked.
"No, not really," I said.
And then, we started. Rui read out his introduction. From the Second World War to the World Trade Organisation to the World Bank to BRICS, Rui said it all. Except, he didn't say the word "Doklam" at all. Not once. Rui was evidently under orders.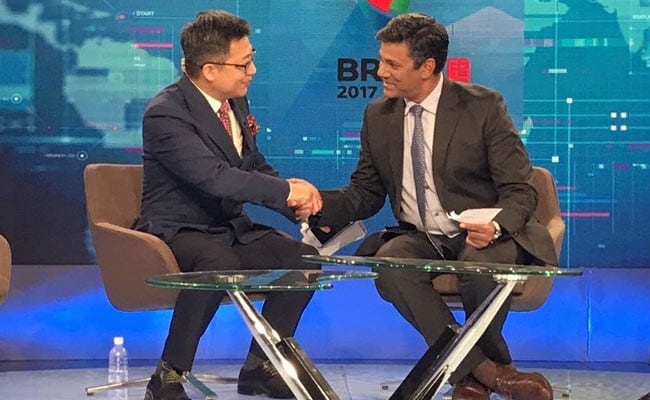 Then it was my turn. And I spoke about the need to move beyond Doklam, to avoid shrill rhetoric "while being aware that there remain differences and concerns on each side which will need to be addressed".
Rui's expression changed. The friendly co-anchor look disappeared. He would now need to "manage" the show.
Which is exactly what he attempted to do.
Moments after I asked a Chinese panelist how BRICS could ever address counter-terrorism issues if China had double standards on Hafiz Saeed and Maulana Masood Azhar who are supported by Pakistan, Rui jumped in.
"Our India friends feel a lot more interested in the issue of security, particularly in the area of counter-terrorism. However, we have differences about the definition of terrorism - that varies - depending on Kashmir," said Rui.
"I thought there was only one definition of terrorism," I said, a statement that evidently irked Rui.
"Come on, I had a discussion with a senior expert on counter-terrorism in Tel Aviv a few years back," said Rui before forcibly trying to steer the course of the debate.
"My question is ..." began Rui but clearly I was not going to back down. And frankly, this is where Indian anchors tend to be unique. We are happy to reiterate "answer the question" so many times that the poor person at the receiving end really has no choice but to answer! Rui had not expected this. His co-anchor had stood his ground and wasn't going to back down. This was our own mini-Doklam standoff! He blinked and "let me" go ahead.
"Can I have an answer to what I was asking because I think it is an important issue?" I interjected.
"This is an area where Indians and Chinese disagree whether the centrepiece of BRICS should be about security issues ," said Rui.
"It is about security issues. Security and counter-terrorism" I said in reference to a meeting of National Security Advisers of all BRICS nations in July where there was a discussion on how to to enhance the role of the group in looking at counter-terrorism and cyber-security issues.
And this, frankly, was how most of the show went. Direct questions on Chinese policy were met with a clear attempt to "set the record straight" by my Chinese co-anchor. The rest of the show was, frankly, a sermon, on how BRICS could transform the world. Fairly unwatchable.
The experience, though, of doing a show in Beijing was quite incredible. If I were to go beyond my co-host's attempts to talk-down to me, there is little doubt that this was a new beginning, a small, perhaps hesitant effort by Chinese media to engage their Indian counterparts. The show itself isn't going to win any awards. But what is clear is this. Like in Doklam, China has shown flexibility - its state broadcaster is willing to put an anchor from a "rival" nation on the same stage. Would our own national broadcaster, Doordarshan, ever be willing to do the same?
(Vishnu Som is Defence Editor and senior anchor, NDTV 24x7)
Disclaimer: The opinions expressed within this article are the personal opinions of the author. The facts and opinions appearing in the article do not reflect the views of NDTV and NDTV does not assume any responsibility or liability for the same.