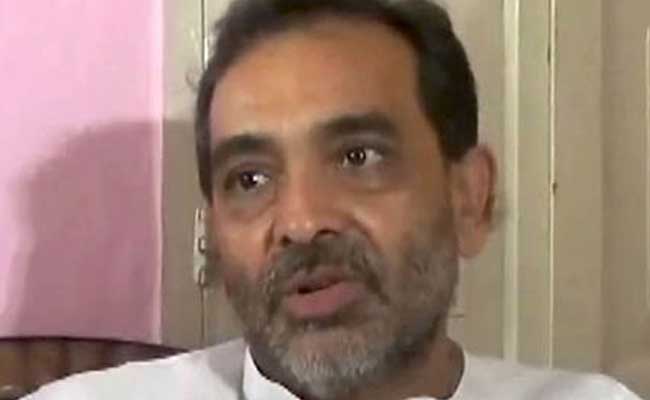 The BJP announcement of it first list of candidates for the coming assembly elections in Bihar left one of its key allies - Upendra Kushwaha, the leader of Rashtriya Lok Samta Party - miffed.
Mr Kushwaha - who is also the junior human resources development minister in the Narendra Modi government -- had shrugged off the number of seats he got; 23 in place of the expected 25, the two seats having gone to Jitan Ram Manjhi's Hindustani Awam Morcha.
"Now that we are fighting elections as NDA, such matters are things of past," he had said. But his party also made the point that the BJP should have waited for the seat-sharing talks to conclude to make its announcement.
The RLSP has become the second party the BJP has irked in course of the tricky business of seat sharing. The first was the Lok Janshakti Party of Ram Vilas Paswan, another Central minister, who had been less than happy about the extra seats given to Jitan Ram Manjhi.
But the reservations of Mr Kushwaha - the foremost leader of the Koeri community -- are expected to be a matter of concern for the BJP, which seeks to win what is being billed as the most crucial election in Bihar.
Along with its traditional upper caste base in Bihar, the BJP needs consolidation of the Koeri votebank and the Dalit votebank of Mr Paswan.
The Koeri community is a backward caste that forms about 6 per cent of Bihar's population. But they have a significant voter base in around 20-25 assembly seats.
This was also why, despite having only three lawmakers in Parliament, Mr Kushwaha has been rewarded with a ministerial berth.
There is also a concern among a section of BJP leaders that Mr Kushwaha can win a chunk of votes and switch sides - his past history is checkered with such shifts.
Mr Kushwaha had started his politics at the side of Lalu Yadav, but later switched to Nitish Kumar's Janata Dal United.
The JD(U) sent him to the Rajya Sabha. But in 2012, Mr Kushwaha had rebelled against Nitish Kumar and voted in favour of Foreign Direct Investment in multi-brand retail in Rajya Sabha -- siding with the UPA government and against the JD(U) line.
Mr Kushwaha, who was suspended from the party for it, said he had done so to protest what he called the "dictatorial attitude" of Mr Kumar, who was then the Bihar Chief Minister.
In 2013, he floated the Rashtriya Lok Samta Party, which sided with the NDA in 2014 and reaped the electoral benefits in the Lok Sabha polls.