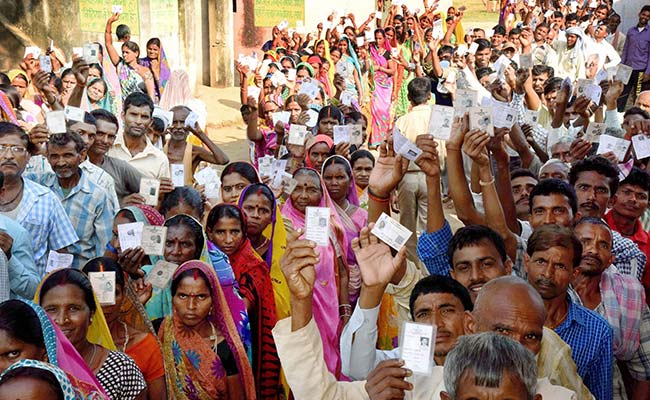 Patna:
The stage is set for the fifth and final round of voting for 57 seats in the Bihar Assembly poll. Voting will take place tomorrow to decide the fate of senior minister Bijendra Prasad Yadav of JD(U) and RJD Legislature party leader Abdul Bari Siddiqui among others.
The 57 constituencies include 24 in the Seemanchal region bordering West Bengal and spread over nine districts of Madhubani, Darbhanga, Supual, Madhepura, Saharsa, Araria, Kisanganj, Purnea, and Katihar.
A total of 1,55,43,594 electors are eligible to vote to decide the fate of 827 candidates, including 58 women.
Prominent among those whose fate will be decided in the last phase include senior minister Bijendra Prasad Yadav of JD(U) (Supual), RJD Legislature party leader Siddiqui (Alinagar), Minister Narendra Narayan Yadav (Alamnagar) and Lalu Prasad's close aid Bhola Yadav (Bahadurpur).
Except for two seats in Simri Bhaktiyarpur, polling will take place on the remaining 55 constituencies at the scheduled 7 am to 5 pm, Additional Chief Electoral Officer R Lakshmanan said.
In the two Naxal-hit constituencies - Simri Bhakhtiyarpur and Mahisi in Saharsa district, the poll time has been cut short by two hours and would end at 3 pm.
Like in the previous four phases there is a bitter fight between the NDA and the grand alliance of JD(U), RJD and Congress in all 57 seats in the fifth round. This round would also be watched keenly to see if All India Majlis-e-Ittehad-ul Muslimeen (AIMIM) of Hyderabad lawmaker Asauddin Owaisi manages to successfully launch itself in Bihar.
AIMIM has fielded six candidates in Seemanchal areas where Muslim voters are present in large number to test poll waters in Bihar.
Besides, AIMIM, impact of third front particularly Jan Adhikar Party of Madhepura lawmaker Pappu Yadav would also be keenly watched in the Kosi belt.
The Nationalist Congress Party and the Jharkhand Mukti Morcha have also fielded candidates in many constituencies in this phase.
In 2010, the BJP had bagged 23 out of the 57 seats where election will take place tomorrow. The JD(U), which was with the BJP in the last poll, had bagged 20 seats, the RJD of Lalu Prasad 8, Congress 3, LJP 2 and Independent 1.
The BJP has fielded a maximum of 38 candidates, while LJP nominees are contesting in 11. The Rashtriya Lok Samata Party of Union Minister Upendra Kushwaha has put up candidates in five constituencies and Hindustani Awam Morcha of former chief minister Jitan Ram Manjhi in three.
JD(U) candidates are trying their luck in 25 seats, RJD in 20 and Congress 12.