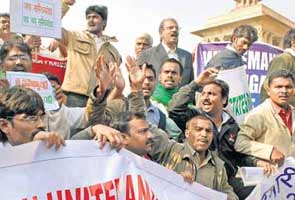 Bangalore:
Brace for continual blackouts as the Bangalore Electricity Supply Company (BESCOM), which is now largely dependent on hydel power and other sources of energy, has literally raised its hands in helplessness.
The state government will soon make an official announcement on the compulsory power cuts.
The state has been facing severe power cuts since the Telangana statehood protest started last month in neighbouring Andhra Pradesh, a major supplier of coal to the state's thermal power units.
According to the sources from the energy department, the government has called for an emergency meeting with the BESCOM officials to discuss the imminent power crisis. The situation is reportedly so grim that state energy minister, Shobha Karandlaje, has confessed that the power cuts would be unavoidable. Further information on the power cuts will officially be announced from Tuesday, she stated.
Short supply
Currently, Bangalore alone is facing a shortage of around 1,000 MW, while other parts of the state is facing shortage of 2,000 MW.
"At present, the situation is under control as we are depending on hydel power apart from the energy that is purchased from private players. However, the state will plunge into a serious crisis by November, if the Telangana issue is not resolved," said P Manivannan, managing director, BESCOM.
Bangaloreans are facing intermittent power cuts for two to three hours, while the load shedding in villages is over four hours daily. The situation has reportedly escalated following the Telangana agitation that has affected the supply of coal in the state.
Meanwhile, the Karnataka Electricity Regulatory Commission (KERC) that it is reviewing the power hike petition.
They are also keeping tabs on further developments. "We are keeping an eye on how the state energy department is going to handle this crisis. We will also ensure that adequate measures are in place," said a KERC official requesting anonymity.