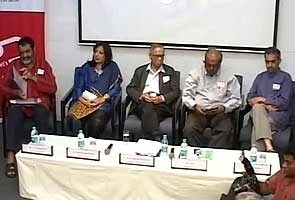 Bangalore:
Will Bangalore's voters get a chance to choose from electoral candidates who do not have a corrupt and criminal background? That is the fervent hope of several opinion leaders in the city who have got together to form the Bangalore Political Action Committee or BPAC. The initiative was formally launched on Sunday, and aims to mobilise the urban middle class to get involved in political processes. It will also identify and fund competent candidates with a record of public service to contest elections.
Pitched as a citizen-driven movement against corruption - and corrupt political candidates in particular - it is being spearheaded by Kiran Mazumdar Shaw, Chairman of Biocon and leading industrialists and public intellectuals in the city, notably Infosys founder NR Narayana Murthy.
Ms Shaw said, "This is a forum that is by the people, for the people that wants to focus on better governance, better delivery, better efficiency, better accountability and better politics.''
Mr Murthy said, "I believe that this is the right time to wake up and build an aspirational dream and an action plan to make such a dream a reality."
BPAC will select candidates who meet its standards of honesty and track record of public service and will help fund these candidates to contest elections. This will not depend on the political affiliations of the candidate.
Mohandas Pai, a trustee of BPAC and one of the directors of Infosys said, "The agenda of BPAC is to work to improve governance in the city of Bangalore. We want to make sure good candidates come forth from political parties and we will support them. We want to ensure the educated middle class goes out and votes. Importantly, we want to bridge the distance that exists today between political representatives and citizens of Bangalore with an inclusive agenda."
The Bangalore Political Action Committee is still in a nascent stage but represents hope that the voices of those tired of corruption could be heard in the corridors of power.