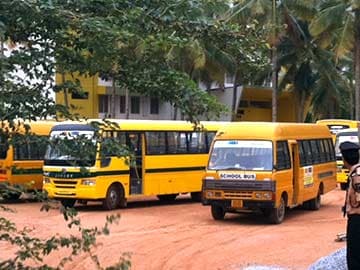 Bangalore:
A school in Bangalore where a six-year-old was allegedly raped earlier this month reopened after two weeks with 110 CCTV cameras in the building besides other security measures driven by outraged parents and the police.
Vibgyor International opened only to students of Class 5 and above today. The younger students will return to classes on Wednesday.
The changes have failed to reassure at least one parent who told NDTV that she was pulling her daughter out of the school.
"I am not going to send her back to this school with the same management and same people, because I am not convinced that whatever is happening will clean the system," the parent, Juhi, told NDTV.
"People (behind the rape) could still be at large in the school. We don't know the name of the people who have done this. Only one name has come out. I am not convinced," she added, sharing that she had applied for her daughter's admission in many other schools. (
Man Who Allegedly Raped Child in Bangalore School Two Years Ago is Out on the Streets
)
A skating instructor, Mustafa, was arrested for the rape of the first grade student in a classroom on July 2. His laptop and mobile phone were loaded with child pornography. The school was accused of failing to check the background of the teacher, who had been sacked from his previous school for "gross misconduct". (
Arrested For First Grader's Rape, Instructor Allegedly Had Child Rape Videos on Laptop
)
Another school employee was allegedly involved in the crime but hasn't been caught yet.
Amid street protests in the IT city, parents, schools and the police devised 11 safety guidelines that include background verification and psychometric tests of staff, CCTV cameras in classrooms and no corporal punishment. (
Six-Year-Old Raped in Bangalore: Police Issues New Guidelines For Schools
)
Around 100 parents visited Vibgyor school on Sunday to examine the measures in place.
A parent told NDTV, "I am very positive. Not happy, but positive that measures are being implemented."