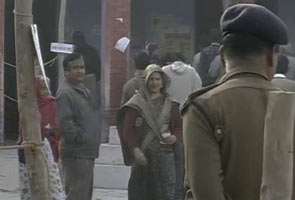 Bareilly:
Polling for the seventh and final phase of Uttar Pradesh assembly elections covering 60 constituencies ended today with around 62 per cent of voters exercising their franchise.
The final phase today is in the western part and Terai region of the state. 968 candidates will battle it out today in 60 constituencies in Uttar Pradesh. Most of these constituencies like Pilibhit, Shahjahanpur and Lakhempur Kheri fall under the Tarai region of the state.
The area also falls under the sugarcane belt of the state. And, issues related to cane pricing, procurement of produce by sugar mills have acquired political prominence.
Each year during monsoons, the region is ravaged by floods and lives are lost due to release of water from dams along the Indo-Nepal border. So flood relief, rescue and rehabilitation are also issues That matter to locals.
With 28 per cent Muslim voters in these 60 odd constituencies, the Samajwadi Party's Azam Khan, the party's Muslim face is one of the tallest leaders in the fray from the Rampur city constituency. His rivalry with actor Jaya Prada, the sitting MP, led to high drama in the run up to the elections. Jaya Prada accused him of running a smear campaign against her, something that has reduced her to tears not once but several times in this elections.
Bharatiya Janata Party's Varun Gandhi has also been confined only to his pockets of influence, Pilibhit. He has been literally missing from this elections, which saw a massive display of youth power in the name of Akhilesh Yadav and Rahul Gandhi. Both these leaders were leading their parties from the front in these polls.
DP Yadav, a strongman with a criminal past, whose entry into the Samajwadi Party was stalled by state president Akhilesh Yadav is also contesting from the Sahaswan constituency. It is the same seat from which his wife Kamlesh earned the dubious distinction of being the first MLA to be disqualified after the Election Commission found charges of paid news against her to be true.
But fighting against him is the BJP's lone Muslim candidate in this election Saphi Shakil Alam, who was a mechanic by profession.
Former BSP MLA Nawab Kazim Ali Khan is also contesting on a congress ticket from the Suar assembly. He switched sides after being denied a ticket by the Bahujan Samaj Party (BSP).
Three ex-BSP ministers, who were axed by Mayawati, in a clean-up act just before polls, Yashpal Singh, Phool Babu and Avdhesh Verma, Who broke down after being denied a ticket, have all migrated to rival political parties and are contesting these elections.
Varun's uncle V M singh, on the other hand, is the richest candidate in this election with declared assets of more than 630 crores. Mr Singh is contesting from the Pallia constituency in Lakhimpur Kheri district on a Trinamool Congress ticket.
The Election Commission expects heavy turnout in this phase also in keeping with the trend seen in the earlier rounds where voting percentage has witnessed an unprecedented rise.
More than 1.82 crore voters in this phase of polling, which was earlier scheduled for February 4 but was later postponed to March 3, would decide the fate of 962 candidates
including some political veterans.
In the 2007 assembly polls, BSP had emerged the biggest party bagging 27 seats, while SP and BJP had got 17 and nine seats respectively.