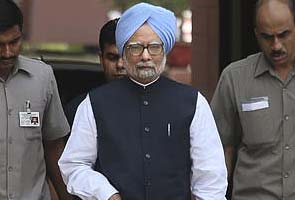 New Delhi:
Prime Minister Manmohan Singh will campaign today for the assembly polls in Gujarat.
Dr Singh is expected to spell out the benefits of various central initiatives to the people of Gujarat at a public rally at Vansada in Navsari district.
The Prime Minister's rally in Gujarat comes two days after Congress President Sonia Gandhi's whirlwind tour of the state during which she had sharpened her attack on Chief Minister Narendra Modi who is seeking a fourth term in office.
At a poll rally in Mandvi in Surat district, Mrs Gandhi had charged the Modi government with making tall claims about development which were nowhere to be seen in the state.
Rahul Gandhi is expected to campaign at Sanand, Jamnagar and Amreli in Gujarat next week.
The first phase of elections will be held in Gujarat on December 13 followed by the second phase on December 17.
The results are scheduled to be declared on December 20.