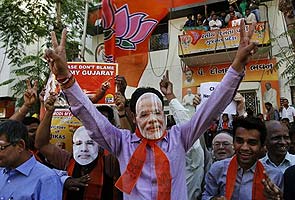 New Delhi/Gandhinagar:
Narendra Modi has delivered Gujarat to his party with an emphatic victory: he is positioned to win nearly 120 of 182 seats; in the last election, he won 117 seats.
(Read)
That Mr Modi would get a third term as chief minister was not a matter of debate; it is whether his re-election will compel the BJP to allow him to run for prime minister in the general election.
The communal riots of 2002, which took place in Gujarat during his first term as chief minister, make him a contentious choice for the top job.
But in a party that's top-heavy and crowded with contenders for that position, Mr Modi's numbers today underscore that he is an undeniable force. "Look at the vote that he's been getting - it defies caste and community," senior party leader Arun Jaitley said.
"Gujarat had a very unfortunate situation in the social tensions, in the riots in 2002. Now the agenda of politics of Gujarat has grown, Narendra Modi has grown. He has tried his best to get out of that agenda and take Gujarat to a very positive agenda. And this election if you see is a result of that positive agenda," he added.
The vote share in Gujarat election asserts the dimensions of Mr Modi's results: a hefty 52% for the BJP as compared to 41% for its main rival, the Congress.
BJP veteran LK Advani, who at the age of 85, is perceived to host prime ministerial ambitions, said, "Gujarat results are satisfying." A few weeks before the election, Mr Advani appeared to endorse Mr Modi as the face of the BJP for the general election in 2014.
"He will have to face the enemies within," said political analyst Tavleen Singh.
"Gujarat has voted for development and Mr Modi's leadership... The Congress tried to play the communal card but failed. Gujarat will continue to flourish under the leadership of Narendra Modi," said party president Nitin Gadkari.
(Read)
Even if the BJP is able to persuade its senior leaders to surrender their own career plans to allow Mr Modi to lead the campaign in 2014, the party has to figure out how to manage the partners in its national coalition, the NDA.
An important collaborator, Nitish Kumar and his Janata Dal(United), have warned that a leader lacking in secular values is not acceptable as a prime ministerial candidate.
(Read: Nitish's party not swayed by Modi's win)
The communal riots of 2002 in Gujarat, during Mr Modi's first term as chief minister, threaten to impede his plans for a big promotion to New Delhi.