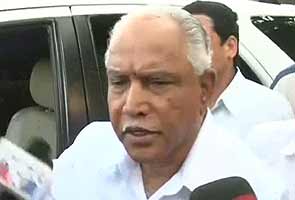 Bangalore:
With campaigning on for the May 5 Assembly elections, the ruling BJP in Karnataka is pouring out much of its vitriol on former party strongman B S Yeddyurappa while holding its fire on main rival Congress.
The picture the BJP leaders are now portraying, is that of a party that has become "pure" after the exit of Mr Yeddyurappa, who has been credited with mostly being responsible for installing the party's first-ever government in the South but has been mired in allegations of corruption.
During public meetings, BJP leaders have been harping on allegations of corruption during his rule that led to his being sent to jail after he was indicted by Lok Ayukta on graft charges.
On the contrary, they say, the D V Sadananda Gowda and Jagadish Shettar governments were scam-free.
The BJP may be a divided house, but its leaders are united in attacking Mr Yeddyurappa, whose utterances are a clear indication that he treats the party of his four-decade old association as its biggest political enemy.
Not one to be browbeaten, Mr Yeddyurappa has been paying in kind to the BJP, which is finding it difficult to finalise the list of candidates as it is in a dilemma over fence-sitters.
Mr Yeddyurappa proved a point in the recent Urban Local Bodies elections in which his fledgling Karnataka Janatha Paksha (KJP) ensured that BJP was forced to share the third slot with Janata Dal-Secular or JD(S), headed by former Prime Minister H D Devegowda.
But the gritty leader failed to make a big mark in establishing his independent political identity, and just played spoilsport for the BJP.
Get Breaking news, live coverage, and Latest News from India and around the world on NDTV.com. Catch all the Live TV action on NDTV 24x7 and NDTV India. Like us on Facebook or follow us on Twitter and Instagram for latest news and live news updates.