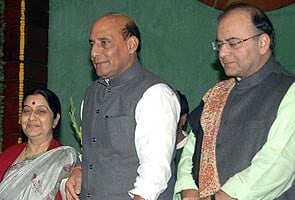 Bangalore:
Ruling BJP in Karnataka will rope in its top national leaders for a high-pitch campaign for the May 5 assembly polls from April 21.
Announcing the campaign schedule, BJP State unit President Prahlad Joshi rubbished media reports raising questions about Gujarat Chief Minister Narendra Modi's involvement in electioneering.
"Modiji is expected to give his dates to us tonight or tomorrow," he said amid speculation that the Gujarat Chief Minister may not expose himself to a political risk as BJP is battling a strong anti-incumbency factor in the state.
Former Deputy Prime Minister LK Advani would begin the electioneering for a day addressing meetings in Rannebennur and Davanagere on April 21, Mr Joshi said.
Mr Joshi said the leader of the opposition in Lok Sabha Sushma Swaraj will address a meeting in Bangalore and party President Rajnath Singh at Belgaum and Yenakanmaradi on April 21. Another senior leader M Venkaiah Naidu is scheduled to address rallies in Raichur, Sindhanur and Gangavati the same day.
BJP has booked two helicopters and a special aircraft for the campaign, Mr Joshi said.
Mr Joshi also said the opposition leader in Rajya Sabha Arun Jaitley would arrive in the city tomorrow to attend a party event and also address a rally at a later date.
To a query, Mr Joshi said BJP would not make the blast near the party office here yesterday an election issue during campaign but would react strongly if other parties leveled allegations targeting his party.
Reacting to the statements of Congress leaders that saffron outfits were behind the blast, Mr Joshi said he did not want to politicise the issue. "We have only said since the blast happened in front of our office, they (terrorists) might have targeted our leaders," he said.