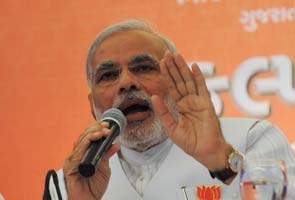 Ahmedabad:
Gujarat's ruling BJP is supremely confident ahead of Thursday's vote count following assemble elections with exit polls predicting a sweeping victory for Chief Minister Narendra Modi.
Gujarat recorded its highest voter turnout of 71.3 percent in the two-round elections to pick a new 182-seat assembly. The elections ended on Monday.
BJP leader Jaynarayan Vyas asserted that the party would win the electoral battle with impressive margins.
"We will win on the basis of good governance, transparency and progress," Mr Vyas told media.
He said if the BJP wins, it would be the first time in Gujarat's history that a Chief Minister would have won three successive elections.
Asked if Mr Modi will have a national role if the party wins, Mr Vyas said it was for Mr Modi and the BJP to decide.
Although most exit polls have predicted a sweeping win for Mr Modi, who is widely seen as a more powerful entity than the BJP in Gujarat, the Congress remains hopeful.
"We have promised to address concerns of people about water, electricity and housing," state Congress spokesman Amee Yajnik said.
The millions of votes polled in Gujarat will be counted across the state Thursday from 8. am under heavy security.
Though other BJP leaders also campaigned in the state, Mr Modi remained the biggest crowd-puller.
Pitted against him were Congress president Sonia Gandhi and her son and party general secretary Rahul Gandhi.
Prime Minister Manmohan Singh also campaigned in the state.