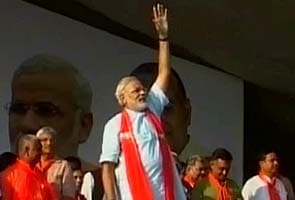 Ahmedabad:
The BJP has not given a ticket to any Muslim candidate in the upcoming Gujarat elections scheduled for next month. In the 182 member assembly, the BJP has announced 181 seats. The only remaining constituency is Jhalod, and that is a Scheduled Tribe reserved seat. The second list of candidates was made public on Thursday.
The BJP has explained this by saying that almost all the sitting MLAs have been retained and the rest of the seats given to other deserving candidates, leaving the party with very little flexibility. It also said that the BJP doesn't believe in "appeasement" on any basis. The Congress has given four seats to Muslims.
Analysts though say that there is a political calculation behind not giving tickets to Muslims. It is to counter BJP rebel and former chief minister Keshubhai Patel's new outfit, the Gujarat Parivartan Party (GPP), which too has not fielded any Muslim. The logic being that if the BJP puts up Muslims, then the hardcore Hindu vote which has kept it in power for two consecutive terms might float to the GPP.
Muslims make close to 10 per cent of the vote and in some areas have the numbers to influence the poll outcome. The demographic of several constituencies has also changed since the last elections after delimitation or shifting the geographical boundaries for logistical and other reasons.
Chief Minister Narendra Modi, shooting for a third term in office, had taken out a Sadhbhavna Yatra across the state in a bid to assure the Muslims and minorities in the state a couple of months ago. But he did trip when he refused to wear a Muslim cap at a public function, which was splashed across the country by the media.
The two-phase Gujarat elections will be held on December 13 and 17. The counting of votes will take place on December 20.