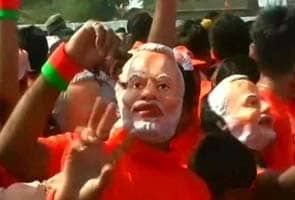 Visnagar, Mehsana:
As far as BJP leader Narendra Modi is concerned, a third term as chief minister of Gujarat can be taken for granted.
Yesterday, the state hit an all-time high with 68 percent voter turnout. On December 17, north and central Gujarat will vote, and Mr Modi's hold over the important Kadva Patel community will be put to test.
In 2007, the Kadva Patels, a community originally of farmers and land owners who have now ventured into trading and business, were unequivocal in their choice, and Mr Modi won 25 of the 32 seats in Banaskantha, Sabarkantha, Mehsana, Patan and Gandhinagar districts of north Gujarat. Their vote in Mehsana and Patan is crucial and the BJP won largely because of their support.
But there is a palpable sense of disenchantment now. Sections of the community are upset with the BJP after leaders from their community were convicted in two different cases. More than 24 people, most of them Kadva Patels, were convicted for killing 42 people, and sentenced to life in prison by a trial court in Gujarat.
Sanjay Patel, who is from the BJP and was elected to the local corporation in Visnagar, is among those upset with the party.
His father, Prahlad Patel, was the state legislator from this constituency in 2002 when the riots took place. He was accused of leading the mob but was acquitted.
"People are upset. The community is still not willing to speak openly and they won't reveal how they have decided to vote," the 35- year-old corporator explains, adjusting his blue T-shirt's folded collar.
It takes a little prodding to get him to elaborate. "We did not get full support from the government. The expectation was that if Narendra Modi could bring some sort of pressure on the court proceedings, that would have been better," he said.
He agrees that was an irrational thought. "Later, we understood that the government cannot interfere in court proceedings." But the fact that Amit Shah, former state home minister known for his proximity to Mr Modi, has been granted bail and is contesting the elections irks him, and many others in his community.
Mr Shah is accused of the murder of Sohrabuddin Sheikh, a petty criminal, who was killed in a fake encounter by policemen at the alleged urging of the politician, who was then Home Minister.
The Kadva Patels are aware of the power they wield. A slight swing away from the BJP could cost the party about six seats.
All efforts are being made in key constituencies to persuade the community not to desert Mr Modi. Local BJP leaders have held meetings with community elders to ensure their vote is not divided. At the same time, to compensate this loss, the Thakur community is also being wooed to ensure they get the arithmetic right.
Meanwhile, Muslims, who comprise 10 percent of the population in north Gujarat, are largely expected to vote for the Congress.
The Dipda Darwaza area in old Visnagar used to be home to Hindus and Muslims. After the riots, the Muslims moved away. Yusuf Khan Pathan lived with his family here and owned a paan shop in the heart of town opposite the bus station. During the riots, he lost 11 family members including his wife, mother, children, brother and nephews. But because their bodies were not found, those accused of orchestrating the riots were not charged with the murders of his relatives.
Yusuf has remarried. He has renovated the shop that was burnt down but he lives elsewhere now.
"The accused were all Patels from our neighbourhood. They knew us and still betrayed us. They stabbed us in the back. I don't feel that I got justice," he shares.