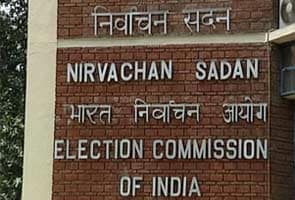 New Delhi:
The Election Commission will decide today whether the government violated the rules by announcing a major overhaul of India's welfare system while Gujarat is in the midst of elections.
The opposition BJP has complained that the announcement of the direct cash transfer scheme violates the model code of conduct, which kicks in as soon as elections are announced and forbids parties and candidates from sharing decisions or policies that could influence voters in their favour.
The government has sent a written explanation to the commission, headed by VS Sampath, which had demanded a response by 4 pm on Monday. The government has reportedly reiterated that the scheme is an old one that was announced months ago when then Finance Minister Pranab Mukherjee presented this year's union budget.
Earlier on Monday, minister Manish Tewari said, "The BJP should make its position clear on cash transfers. Are they for cash transfers or are they against it?"
Gujarat votes on December 13 and 17. The direct cash transfer scheme, a major reform measure, is meant to be implemented from January 1.
Starting with 51 districts, including four in Gujarat, the government plans to replace subsidized items with direct deposits in the bank accounts of beneficiaries, most of them low-income families.
The cash transfers will change the way millions of Indians access entitlement programmes, though for now, the manner in which subsidized food is distributed to families will remain unaffected.
The main advantages in paying cash directly are that corruption can be reduced by removing government middlemen who often demand bribes to dispense subsidized products or services, while the poor can be better targeted.
However, only those with a Unique ID (UID) number and a bank account will be eligible for the cash transfers. Under the Aadhar scheme headed by Infosys' co-founder Nandan Nilekani, every citizen is to be assigned a unique biometric identity number.
The poor banking infrastructure in many rural areas will be a major challenge for the government as it tries to roll out the direct cash transfer scheme.