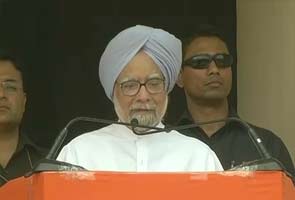 New Delhi:
Even as the parliament logjam over the coal scam continues in New Delhi, Prime Minister Manmohan Singh today began his campaign down south for state elections in Karnataka to be held on May 5.
Dr Singh addressing a rally in Hubli first, hit out at the BJP saying bad governance, sloppy development work and corruption had slowed down growth in Karnataka. He also said he had come to Karnataka on behalf of the Congress party to ask for votes as only the Congress could work for the state's development.
The prime minister then heads to Bangalore where he will address a rally later in the afternoon.
Over the weekend, four women leaders including Congress chief Sonia Gandhi, BJP's Sushma Swaraj and BSP supremo Mayawati were in Karnataka as they sought votes for their party candidates.
Congress vice president Rahul Gandhi campaigned in the state on Friday. He had said the BJP government in Karnataka has created a "world record" in corruption but was talking about corruption of the central government.
After five turbulent years of rule, the BJP in Karnataka is in a tough position as it tries to hold on to power. One of their star campaigners, Gujarat Chief Minister Narendra Modi, finally got into campaign mode in the state on Sunday evening in Bangalore. Addressing a rally of mostly BJP workers, Mr Modi used his oratorical skills to the best effect.