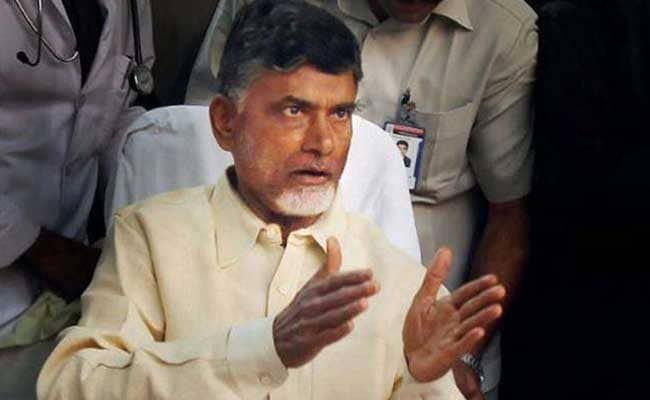 Highlights
Bypoll for Andhra Pradesh's Nandyala assembly seat will be held soon
Nandyala is a stronghold of the opposition YSR Congress
Late Bhuma Nagireddy, who won in 2014 from Nandyala, later joined TDP
Hyderabad:
Andhra Pradesh Chief Minister Chandrababu Naidu has asked party leaders to demand votes from people, controversially saying at a function that those who do not like his government, they have his
namaskaram
- symbolically suggesting he wants nothing to do with them.
"You are taking the pension I am giving, using roads we have built, taking rations that we give, benefiting from our schemes, then why should you not support us politically?" he said, while addressing partymen in Nandyala in Kurnool district on Thursday.
By-elections will be held soon for the Nandyala assembly seat, made vacant by the death of a legislator from Mr Naidu's Telugu Desam Party earlier this year, and the ruling party faces a tough challenge from Jaganmohan Reddy's YSR Congress. Mr Naidu was admonishing TDP workers for failing to consolidate the party's influence in some areas of the constituency when he made the comments.
The Chief Minister talked about other political parties handing out cash to bribe voters during elections and stressed that the TDP will not do that. "Some people use corrupt means by giving money to voters. I too can give voters 5,000 rupees but I will not do that, it's not my policy," he said.
Party leaders, Mr Naidu said, must demand votes from people since the government has done a lot for them, urging partymen to educate the people about government schemes and policies. But he also warned, "I will not hesitate to ignore the villages which don't vote for us."
Mr Naidu has reason to be nervous about the by-election in Nandyala. It is a YSR Congress stronghold and Bhuma Nagireddy, the legislator who died, had won as a candidate from that party in 2014. He later joined the TDP.
Mr Reddy's daughter B Akhila Priya is a minister in Mr Naidu's government.