Uddandarayunipalem, Andhra Pradesh:
History was made today as Prime Minister
Narendra Modi laid the foundation stone for Amaravati
, the new capital of Andhra Pradesh, on the banks of the river Krishna.
With union minister Venkaiah Naidu - a lawmaker from the state's Udaygiri constituency - acting as his translator, PM said, "There have been few new cities made after independence.
The quick speed in which Chandrababu-ji has put everything together, I salute him from the bottom of my heart
."
The need of the hour is urban development
, he added. "We should see it as an opportunity and not as a problem".
"Three new states were created when Atal Bihari Vajpayee was Prime Minister, but there was no fighting and no blood was spilled," the Prime Minister said. "Because of lack of political understanding and hurry, Andhra and Telangana were divided... I feel for the innocent people who lost their lives and property in the process."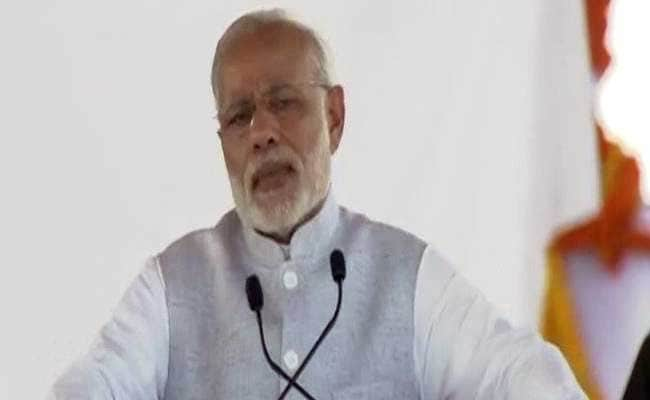 The grand event was attended by over four lakh people, besides ministers from Singapore and Japan - experts from the two countries are being consulted about the city plans -- ambassadors from 14 countries, central ministers, top politicians, judges, industrialists and celebrities.
When Telangana was carved out of Andhra Pradesh last year, it was decided that the two states will share the capital of undivided Andhra Pradesh, Hyderabad, for a period of 10 years. But after that, Telangana will get to retain Hyderabad, while Andhra Pradesh will shift to a new capital.
Though the decision caused much bitterness in Andhra Pradesh, Mr Naidu converted it to an opportunity to build what he called the "city of the future".
In Hindu mythology, Amaravati is said to the capital of Indra, the king of Gods. In history, Amaravati, situated in Guntur district, was once the seat of power of Satavahana rulers. Mr Naidu, too, plans a capital as grand.
He said wants it to be a "people's capital" and a haven of opportunities.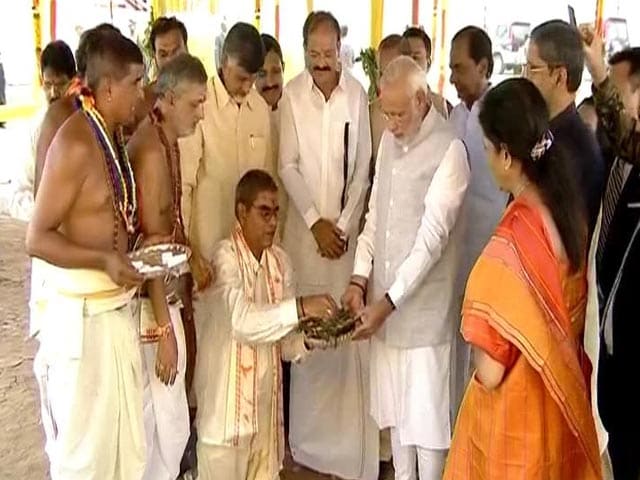 At a call from the Chief Minister, soil and water from 16,000 villages of the state and prominent pilgrim centres across the country have been brought to be used for the construction of the new city. Yesterday, this soil and water was sprinkled over the area where the capital city is to be built, as a symbol of collective participation.
To that end, Mr Naidu has also asked each person to buy a single brick for the new capital.
Mr Naidu had personally invited several union ministers and Governor ESL Narasimhan. Setting aside the bitterness in their relations due to cash-for-vote scam, he also met his Telangana counterpart K Chandrasekhar Rao and invited him for the event.