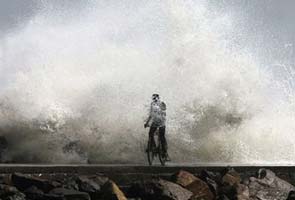 Hyderabad:
High tidal waves continued to slam the Andhra Pradesh coast today under the influence of severe cyclonic storm 'Thane' in the Bay of Bengal which is likely to cross north Tamil Nadu coast between Nagapattinam and Chennai tomorrow.
All nine coastal districts went on high alert while authorities with the help of Coast Guard launched efforts to rescue fishermen trapped on the high seas off the coast in East Godavari district.
Third warning signal was hoisted at all ports off the Andhra coast while rain accompanied by strong gale began lashing Nellore and Srikakulam districts in the morning, officials said.
Commissioner of disaster management T. Radha has requested the commandant of the National Disaster Response Force (NDRF) based at Mangalagiri to keep the force ready for movement on the request of the district collectors.
A helicopter was pressed into service to rescue five fishermen trapped at sea, 15 km from the coast at Antravedi in East Godavari district, since Wednesday. Their boat is unable to reach the shore due to high tidal waves.
About 100 fishermen from Uppada in the same district have also not returned for the last two days, causing anxiety to their families. Authorities have sought the help of Coast Guard in tracing them.
Four fishermen from Bapatla in Guntur district are also reported missing. They have not returned home for four days.
Authorities have also launched efforts to rescue another nine fishermen stranded at sea near Machilipatnam in Krishna district.
Panic prevailed among people living along the coast due to rough conditions in the sea. Sea water gushed in up to 50 metres in some coastal villages in Krishna, East Godavari and Srikakulam districts.
For the second consecutive day, the beach road between Uppada and Kakinada was inundated by high tidal waves.
Chief Minister N. Kiran Kumar Reddy, who was on a visit to Delhi, reviewed the situation with Chief Secretary Pankaj Dwivedi over phone and directed him to alert all district collectors.
The India Meteorological Department (IMD) has issued 'orange' alert - which stands for a severe cyclone - for north Tamil Nadu and south Andhra coasts.
According to an IMD bulletin, the severe cyclonic storm lay centred about 300 km east-southeast of Chennai.
The storm is likely to move westwards and cross north Tamil Nadu coast between Nagapattinam and Chennai, close to Puducherry Friday morning.
However, as the cyclonic storm will come further close to the coast, there is probability of slight weakening before landfall.