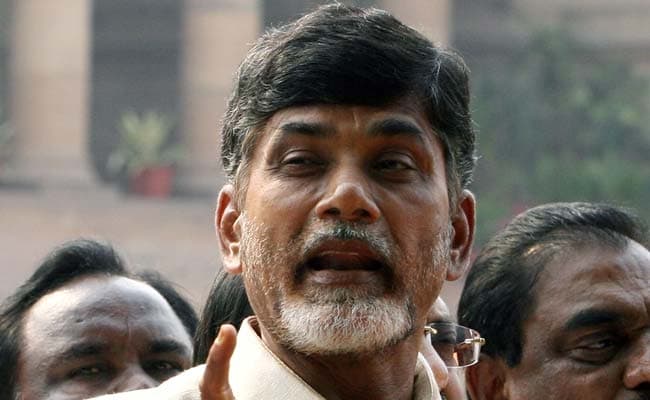 Hyderabad:
The Andhra Pradesh government today decided to seek Centre's intervention in asking the Governor to exercise his powers in the common capital of Hyderabad with Telangana as it accused the dispensation in the newly-formed state of tapping phones of its ministers, MPs and officers.
Andhra Pradesh Chief Minister N Chandrababu Naidu left for Delhi and is expected to meet the Prime Minister today.
As the wrangling between the two states intensified, 50 FIRs were registered by Andhra Pradesh Police last evening against Telangana Chief Minister K Chandrasekhar Rao for alleged illegal tapping of phones of his Andhra counterpart.
Telangana Police conducted raids at the houses of TDP MLA Revanth Reddy today and two others arrested in connection with cash-for-vote scam which triggered the entire row.
"The (AP) Director General of Police and Chief Secretary would go to Delhi on Wednesday and meet the Union Cabinet Secretary, Home Secretary and others and hand over a representation, urging them to issue rules concerning section 8 (of Andhra Pradesh Reorganisation Act)," Andhra Pradesh Finance Minister Y Ramakrishnudu told reporters after a meeting of state cabinet chaired by Chief Minister Naidu in Hyderabad.
As Governor ESL Narasimhan had not exercised his powers, Andhra government decided to ask him to exercise them, he said, adding that Cabinet passed a resolution to this effect.
Hyderabad is the common capital of two states but Andhra Pradesh does not have executive powers in the city.
Mr Naidu left for Delhi after the meeting. He is expected to meet Prime Minister Narendra Modi, Union Home Minister Rajnath Singh and Finance Minister Arun Jaitley today.
The Telangana government was behaving as if it had all the powers and "personal liberty and security" of Andhra ministers and officials is at stake" as security personnel were under the control of Telangana government, Ramakrishnudu alleged.
"We received information that some 120 tapes of Andhra Pradesh ministers, important leaders, officials and MPs have been recorded," he alleged.
The slug-fest between governments of the two states -- born of bifurcation of Andhra Pradesh exactly a year ago -- started with arrest of TDP MLA in Telangana Revanth Reddy by Telangana anti-corruption bureau while allegedly offering bribe to a nominated MLA for voting for TDP nominee in Legislative Council election.
This was followed by surfacing of audio tapes, purportedly containing Naidu's tapped conversation. Mr Naidu has denied that it was his voice.
On Tuesday, three teams of Telangana ACB conducted searches at the residences of Revanth Reddy, Sebastian Harry and Uday Simha, and seized a computer CPU from Reddy's house, deputy superintendent of ACB Ashok Kumar said.
Mr Reddy and the two others were arrested on May 31 while allegedly trying to hand over Rs 50 lakh to nominated MLA Elvis Stephenson to vote for TDP nominee.
They were produced before the special ACB court here as their police custody ended today, and were remanded in judicial custody till June 15.
ACB also filed a petition before the chief metropolitan court here seeking allotment of a court to record the statement of nominated MLA Stephenson, the complainant, under CrPC section 164 (which would be admissible in the trial).
The court entrusted the responsibility to the third ACMM court which will fix a date on Wednesday for recording statement.
The ACB would also file its response to Revanth's bail application today.
Meanwhile, Telangana IT Minister KT Rama Rao, son of Chief Minister K Chandrasekhar Rao, alleged that Chandrababu Naidu was turning the issue into one concerning the common people of his state.
"He (Naidu) is trying to make (look) his problem as the problem of people by taking cover under the post of Chief Minister. Revanth Reddy repeatedly said (in a video clip allegedly showing him) that he was doing it at the behest of Chandrababu Naidu. Now, Chandrababu Naidu should have an answer on this," Mr Rama Rao said.
In a related development, Telangana ACB this evening denied the media reports that it had tapped the phones of Andhra Pradesh Chief Minister and other TDP leaders.
"These allegations are totally baseless and unfounded," ACB Director General A K Khan said in a statement.
Khan and Telangana intelligence chief Shivdhar Reddy met Telangana Chief Minister K Chandrasekhar Rao at his camp office in Hyderabad.