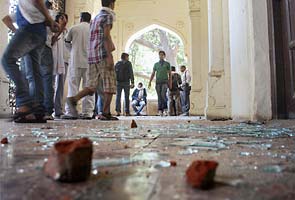 Allahabad:
The Allahabad University in Uttar Pradesh has been shut down for two days after over 1000 students went on a rampage in and around the campus on Thursday evening - they clashed with the police, pelted stones at them and also torched six vehicles.
The students were protesting against Vice Chancellor Dr AK Singh's order instructing them to vacate college hostels during the summer break. They began by staging a sit-in outside Dr Singh's office and refused to let him leave till he reversed his decision, practically holding him hostage for over 24 hours.
Trouble began when the district administration stepped-in on Thursday evening and tried to forcibly remove the students.
Students clashed with policemen as an under-prepared administration was caught off-guard. Over 1000 students pelted the police with stones and torched six vehicles, including a public bus and the official car of an additional district magistrate.
The riot resulted in a curfew-like situation in a five square kilometre area, in and around the university campus.
During the protests, Abhishek Yadav, a Samajwadi Party youth wing leader was also seen actively engaging with the students. In November last year, Mr Yadav had waved black flags at Congress General Secretary Rahul Gandhi's rally - following which he was allegedly beaten up by Congress ministers and leaders.
He reportedly enjoys the confidence of Chief Minister Akhilesh Yadav, allegedly the reason why the local administration did not step in for more than 24 hours. A Samajwadi Party student leader however denied the charge and blamed "an unresponsive university administration" for the tension on campus.
After last night's violence, Abhishek Yadav was back on the campus today and was seen addressing students and spearheading the agitation.
The police today raided more than seven hostels in the university campus in search of students who clashed with the cops yesterday and indulged in rioting and arson. But many of those involved in the violence are said to have fled the campus last night itself.