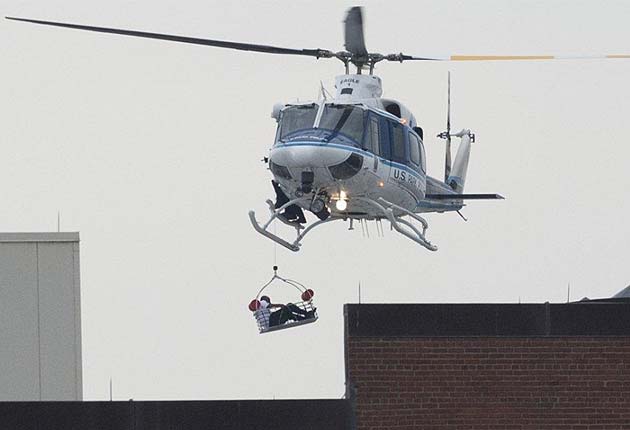 At least six people have died in a shooting at the Washington Navy Yard today, said US Navy officials.
(See pictures)
Authorities say they are looking for two additional suspects in the shooting rampage at the Washington Navy Yard.
District of Columbia Police Chief Cathy Lanier says witnesses reported seeing two additional gunmen, both dressed in military-style clothing.
Lanier says one police officer was wounded in an exchange of gunfire with a shooter. She says one shooter has been killed.
At one point a police helicopter hovering over the complex lowered a man down by rope into the compound.
(Watch: Police respond to shooter in Washington Navy Yard)
Police blocked off intersections around the Navy Yard as military troops in uniform stood guard at street corners. Crowds of onlookers stood on sidewalks watching the drama unfold and at a construction site near the Navy Yard.
"Emergency personnel are on scene and a 'shelter in place' order has been issued for Navy Yard personnel," The US Navy on its Twitter account said.
Schools in the area were on lock down as a precaution, authorities said, and flights out of the nearby Reagan National Airport were delayed.
The Navy said at least three shots were fired at 8:20 am (1320 GMT) in the headquarters building of the Naval Sea Systems Command.
It was unclear how a man armed with an assault rifle could have penetrated the heavy security that surrounds the Navy Yard, which is located on the Anacostia River, not far from the Capitol building that houses the US Congress.
One employee told the Washington Post he heard "blam, blam" inside one of the buildings, then someone pulled the fire alarm.
About 3,000 people work at the headquarters, which is responsible for building and buying US warships and combat systems, the navy said.
The complex also has a residence which serves as the home of the chief of the US Navy.
US President Barack Obama today condemned the shooting at the Washington Navy Yard, and vowed a "seamless" operation to administer justice to those responsible.
"As this investigation moves forward, we will do everything in our power to make sure whoever carried out this cowardly act is held responsible," Mr Obama said.
Obama bemoaned the fact that US was confronting "yet another mass shooting" and noted that those in the firing line knew the danger of serving abroad, but were now confronting peril at home.
Defense Secretary Chuck Hagel and the US military's top officer, General Martin Dempsey, were also closely following the incident.
Flights from Reagan were suspended for 90 minutes, and the Federal Aviation Administration said it expected "residual delays as the airport returns to normal operations."