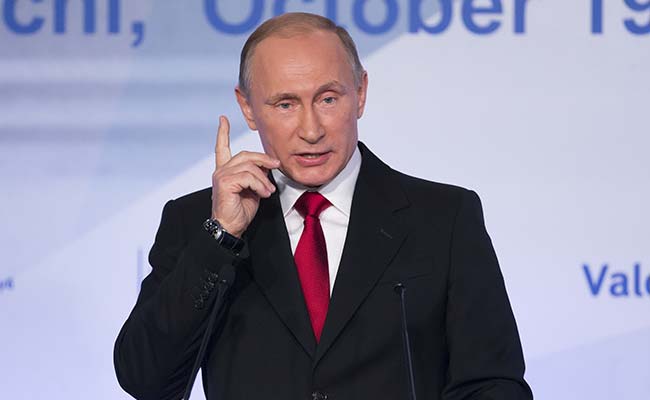 Moscow:
President Vladimir Putin today suspended Russian air traffic with Egypt and ordered assistance in bringing Russian nationals home as investigators probe why one of its passenger jets crashed in the Sinai.
The Russian president has ordered "the halting of flights with Egypt until we manage jointly with our Egyptian partners to establish the necessary level of provision of security for air travel," Peskov told journalists.
He said the move would affect all Russian airlines flying into and out of Egypt.
"We are talking about the security of our citizens, about preventative measures, and about providing the necessary level of security for our citizens who are taking flights to Egypt and back," he said.
The dramatic decision came after Britain and the US said they suspected a bomb was responsible for Saturday's air disaster in which an Airbus jet crashed in the Sinai Peninsula, shortly after taking off from the Red Sea resort of Sharm el-Sheikh.
All 224 people on board were killed, most of them Russian tourists.
Peskov insisted that the decision did not mean that Russia believed the crash was caused by a deliberate attack, saying that "not one theory could dominate" until the investigation reports its results.
Meanwhile, the head of Russia's emergencies ministry said that Russian experts had taken samples from the crashed jet and were testing it for any traces of explosives.
"All of these samples have been delivered to Moscow and are currently being carefully studied," minister Vladimir Puchkov said in televised comments.
"If there are any traces of explosives then they will certainly be found."
Putin's order came shortly after the director of Russia's FSB security service recommended halting flights to Egypt at the start of an emergency meeting of Russia's anti-terrorist committee.
"Until we have determined the true reasons for what happened, I consider it expedient to stop flights by Russian aviation to Egypt," FSB chief Alexander Bortnikov said in televised comments.
Bortnikov said it was crucial to wait for the results of the probe before drawing any definitive conclusions about what caused the crash.
"We need to receive absolutely objective and confirmed information about the crash of the plane," he said.
The head of Russia's federal tourism agency Oleg Safonov told TASS state news agency that some 45,000 Russian tourists were currently estimated to be in Egypt.