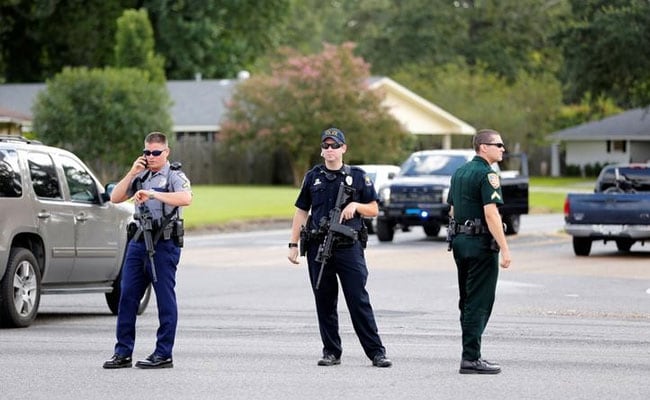 Los Angeles:
The body of a four-year-old boy has been found in a dilapidated camp in the US state of New Mexico where 11 children were rescued in appalling conditions, police said.
Two men were arrested in a raid on Friday as part of the operation connected to a months-long search for the child, according to New Mexico's Taos County Sheriff's office.
"We discovered the remains yesterday on Abdul's fourth birthday," Sheriff Jerry Hogrefe said Tuesday, appearing to fight back tears.
The investigation kicked off late last year on the opposite side of the country in Jonesboro, Georgia, where 39-year-old Siraj Wahhaj was accused of kidnapping his young son Abdul-Ghani.
The boy's mother told police her child, who she said suffered from seizures along with developmental and cognitive problems, went to a park with his father Wahhaj last December and never returned.
On August 2, Sheriff Hogrefe issued a search warrant describing "a makeshift compound surrounded by tires and an earthen berm" where Wahhaj along with adult Lucas Morten were thought to be in hiding.
The next day, a dozen officers kicked off the "all day" operation, discovering hidden beneath New Mexico's scrubland the two men with an AR-15 rifle, five loaded 30-round magazines and four loaded pistols, including one in Wahhaj's pocket.
Morten was charged with harboring a fugitive and Wahhaj was booked without bond on his Georgia warrant for child abduction.
Three women thought to be parents of the children - aged one to 15 and all now in protective custody - were also detained for questioning. They were released pending further investigation.
In the first operation, Abdul was not found.
But the officers returned to the site after questioning the suspects on Friday and Saturday, which led them to believe that the boy was still there.
"We had a good idea of a target location to look for the child," Hogrefe said.
Abdul's mother told the authorities that Siraj Wahhaj wanted to exorcize his son because he considered that his disability was due to a demon.
The other boys "are all safe and their needs are being met," Henry Varela, communications director of the New Mexico Department of Children, Youth and Families, told AFP.
The rubbish-strewn camp had little by way of food or water, while its inhabitants did not have shoes and wore rags for clothes.
(Except for the headline, this story has not been edited by NDTV staff and is published from a syndicated feed.)