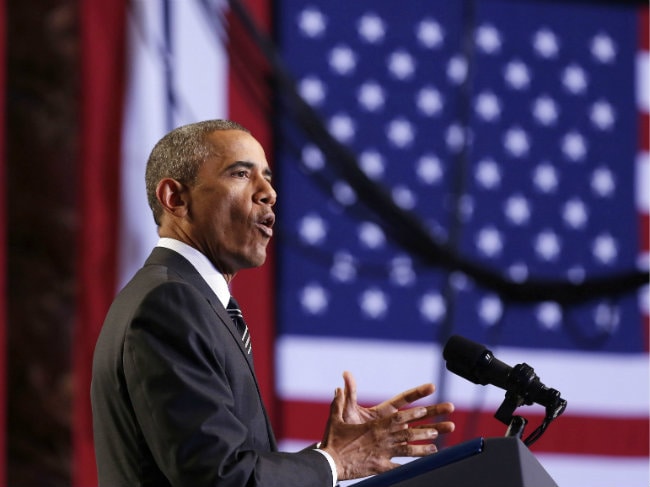 Washington:
The United States will restore full diplomatic relations with Cuba and open an embassy in Havana for the first time in more than a half-century after the release of an American contractor held in prison for five years, U.S. officials said on Wednesday.
In a deal negotiated during 18 months of secret talks hosted largely by Canada and encouraged by Pope Francis, who hosted a final meeting at the Vatican, President Barack Obama and President Raul Castro of Cuba agreed in a telephone call to put aside decades of hostility to find a new relationship between the United States and the island nation just 90 minutes off the U.S. coast.
The contractor, Alan Gross, traveled on a U.S. government plane to the United States on Wednesday, and the United States sent back three Cuban spies who had been in a U.S. prison since 2001. U.S. officials said the Cuban spies were swapped for a U.S. intelligence agent who had been in a Cuban prison for nearly 20 years and said Gross was not technically part of the swap but released separately on "humanitarian grounds." (
Factbox: Who is Alan Gross and What Did he do?
)
In addition, the United States will ease restrictions on remittances, travel and banking relations, and Cuba will release 53 Cuban prisoners identified as political prisoners by the U.S. government. Although the decades-old U.S. embargo on Cuba will remain in place for now, the administration signaled that it would welcome a move by Congress to ease or lift it should lawmakers choose to.
"Today, the United States is taking historic steps to chart a new course in our relations with Cuba and to further engage and empower the Cuban people," the White House said in a written statement.
Obama was expected to make a televised statement from the White House later Wednesday to discuss the breakthrough, which could shape his legacy after he leaves office in two years.
Gross' sister, Bonnie Rubinstein, was "beyond ecstatic" at the news of his release, according to her husband, Harold. "We are extremely grateful that he's on his way home," Rubinstein said by telephone from Dallas. "It's been a long ordeal."
Obama spoke with Castro by telephone Tuesday to finalize the agreement in a call that lasted more than 45 minutes, the first direct contact between the leaders of the two countries in more than 50 years, U.S. officials said.
U.S. officials said Gross' release was made on humanitarian grounds and not directly part of a prisoner swap. Instead, the United States traded the three Cuban spies for what officials called an "intelligence asset" who has been imprisoned in Cuba for 20 years.
Diplomatic relations between the United States and Cuba were severed in January 1961 after the rise of Fidel Castro and his Communist government. Obama has instructed Secretary of State John Kerry to immediately initiate discussions with Cuba about reestablishing diplomatic relations and to begin the process of removing Cuba from the list of states that sponsor terrorism, which it has been on since 1982, the White House said.
Officials said they would re-establish an embassy in Havana and carry out high-level exchanges and visits between the two governments within months. Obama will send an assistant secretary of state to Havana next month to lead a U.S. delegation to the next round of talks on Cuban-American migration. The United States will also begin working with Cuba on issues like counternarcotics, environmental protection and human trafficking.
In addition, the United States will ease travel restrictions across all 12 categories currently envisioned under limited circumstances under U.S. law, including family visits, official visits and journalistic, professional, educational and religious activities, public performances, officials said. Ordinary tourism, however, will remain prohibited.
Obama will allow greater banking ties and raise the level of remittances allowed to be sent to Cuban nationals to $2,000 every three months from the current limit of $500. Intermediaries forwarding remittances will no longer require a specific license from the government. U.S. travelers will also be allowed to import up to $400 worth of goods from Cuba, including up to $100 in tobacco and alcohol products.
"This is being done because we believe the policy of the past has not worked and we believe the best way to bring democracy and prosperity to Cuba is through a different kind of policy," a senior administration official told reporters on a conference call under White House ground rules that did not permit the official to be identified.
But the official said the shift would not diminish the U.S. focus on human rights in Cuba. "Our emphasis on human rights will be just as strong and we believe more effective under this policy," the official said. "We will engage directly with the Cuban government on human rights."
Gross' health has been failing. He has reportedly lost more than 100 pounds in prison and is losing vision in his right eye. He went on a nine-day hunger strike in April. After turning 65 in May, he told relatives that he might try to kill himself if not released soon.
Three members of Congress - Sen. Patrick J. Leahy, D-Vt., Sen. Jeff Flake, R-Ariz., and Rep. Chris Van Hollen, D-Md. - were on the plane that picked up Gross in Cuba on Wednesday to accompany him back to the United States, officials said.
Other Democratic and Republican lawmakers were sharply critical of the deal. "Let's be clear, this was not a 'humanitarian' act by the Castro regime. It was a swap of convicted spies for an innocent American," said Sen. Robert Menendez, D-N.J., the chairman of the Foreign Relations Committee. "President Obama's actions have vindicated the brutal behavior of the Cuban government."
Sen. Marco Rubio of Florida, considered a prospect for the 2016 Republican presidential nomination, told The Associated Press: "This is going to do absolutely nothing to further human rights and democracy in Cuba. But it potentially goes a long way in providing the economic lift that the Castro regime needs to become permanent fixtures in Cuba for generations to come."
Gross was in Cuba to deliver satellite telephone equipment that was capable of cloaking connections to the Internet when he was arrested in 2009. Cuban authorities, who tightly control access to the Internet in their country, initially said he was a spy, and a court there convicted him of bringing in the devices without a permit as part of a subversive plot to "destroy the revolution."
Gross' case drew increasing attention as his health deteriorated. He grew despondent and talked of suicide, and his wife, Judy Gross, and other supporters made urgent pleas for his release, but off-and-on diplomatic talks seemed to go nowhere.
Cuba has often raised the case of three of its spies serving federal prison time in Florida, saying they had been prosecuted unjustly and urging that they be released on humanitarian grounds. State Department officials insisted that the cases were not comparable and that Gross was not an intelligence agent.
Gross worked for Development Alternatives, of Bethesda, Md., and had traveled to more than 50 countries as an international development worker. The company had a $6 million contract with the U.S. Agency for International Development to distribute equipment that could get around Cuba's Internet blockade, and Gross had made four previous trips to Cuba in 2009.
The Rev. Jesse Jackson, the former New Mexico governor and cabinet secretary Bill Richardson and several members of Congress appealed for Gross' release, along with Jewish advocacy groups in the United States.
After visiting Gross in November, Flake, a longtime advocate of loosening the 50-year-old U.S. trade embargo with Cuba, said he was optimistic that the case would be resolved.
American lawmakers who have drawn attention to Gross' case celebrated his departure from Cuba.
"Today, news of Alan's release brings great relief to his loved ones and to every American who has called for his freedom," said Sen. Jerry Moran, R-Kan. "I admire Alan's strength and that of his wife, Judy, who has worked tirelessly for years to free Alan and reunite her family."
The U.S. government has spent $264 million over the last 18 years, much of it through the development agency, in an effort to spur democratic change in Cuba. The agency said in November that it would cease the kinds of operations that Gross was involved in when he was arrested, as well as those, disclosed by The Associated Press, that allowed a contractor to set up a Twitter-like social network that hid its ties to the U.S. government.
© 2014, The New York Times News Service