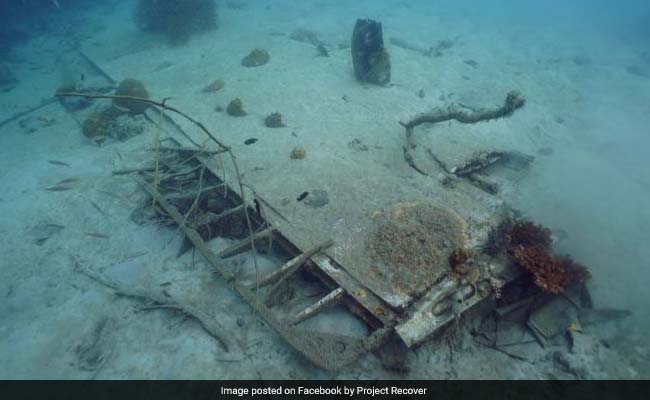 Washington:
Scientists have located two B-25 bombers - one of the most iconic aircraft of the Second World War - that went missing over 70 years ago in the waters off Papua New Guinea. During World War II, some 10,000 B-25 bombers were deployed to conduct a variety of missions such as bombing, submarine patrols, and even the historic raid over Tokyo in April 1942.
Present-day Papua New Guinea was the site of military action in the Pacific Ocean from January 1942 to the end of the war in August 1945, with significant losses of aircraft and soldiers, some of whom have never been found.
Project Recover, consisting of a team of scientists from University of California, San Diego, and University of Delaware, along with members of the non-profit organisation BentProp in the US, combined efforts to locate aircraft and associated missing items from World War II.
In February, the team set out on a mission to map the seafloor in search of missing aircraft, conduct an official archaeological survey of a known B-25 underwater wreck, and interview elders in villages in the immediate area.
In its search of nearly 10 square kilometres, the team located the debris field of a B-25 bomber that had been missing for over 70 years, associated with a crew of six. "People have this mental image of an airplane resting intact on the sea floor, but the reality is that most planes were often already damaged before crashing, or broke up upon impact," said Katy O'Connell, Executive Director at Project Recover.
"After soaking in the sea for decades, they are often unrecognisable to the untrained eye, often covered in corals and other sea-life," said Ms O'Connell, who is based at the University of Delaware.
"Our use of advanced technologies, which led to the discovery of the B-25, enables us to accelerate and enhance the discovery and eventual recovery of our missing servicemen," she said.
"Our team of divers and scientists conducts site surveys to fully document the wreckage. That documentation can then be used by the US government to correlate soldiers still missing in action with the aircraft site we discovered, and to evaluate that site for the possible recovery of remains," said Andrew Pietruszka, Project Recover's underwater archaeologist.
While the scientific focus of Project Recover is to conduct underwater searches and surveys, equally important are the historical accounts of crashes that are often part of local histories, passed from one generation to another. While speaking to village elders about the two B-25 cases, team members were told about local burial sites and additional aircraft that crashed on land.