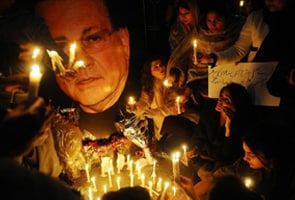 Islamabad:
Two TV news channels have been fined Rs 1 million by Pakistan's media regulatory watchdog for airing an interview of the assassin of Punjab Governor Salman Taseer.
The Pakistan Electronic Media Regulatory Authority (PEMRA) imposed the fines on
Samaa
and
Waqt
channels for airing the interview of Mumtaz Qadri, who gunned down Taseer is Islamabad last week for criticising the controversial blasphemy law. Qadri surrendered after shooting Taseer in a posh market.
Soon after the killing, several TV channels beamed footage of a smiling Qadri saying that the punishment for insulting the Prophet Mohammed was death.
Several TV channels recorded the interview of Qadri but only
Samaa
and
Waqt
channels aired it while others exhibited "responsibility", the
Pakistan Today
newspaper quoted its sources as saying.
PEMRA has proposed a bill to ban discussions on sub-judice matters in TV talk shows.
Pakistani intelligence agencies are conducting an investigation to determine who filmed and released a mobile phone video that shows Qadri singing hymns while in police custody.