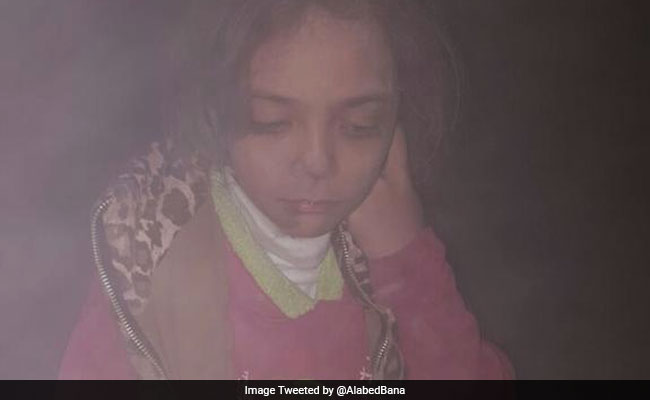 London:
A seven-year-old Syrian girl, whose depictions of daily life in Aleppo have gained a large Twitter following, has sent harrowing messages describing the bombardment of her house as government forces advance on rebel-held parts of the city.
Bana Alabed has amassed some 137,000 followers since joining the social media site in September, sharing videos and pictures of life during the year conflict from her @AlabedBana account managed by her mother, Fatemah.
We have no home now. I got minor injury. I didn't sleep since yesterday, I am hungry. I want to live, I don't want to die. - Bana #Aleppo

— Bana Alabed (@AlabedBana) November 28, 2016
Overnight Sunday to Monday, Fatemah posted a Tweet telling her followers: "Last message - under heavy bombardments now, can't be alive anymore. When we die, keep talking for 200,000 still inside. BYE.- Fatemah".
Several hours later, a picture of the young girl covered in dust was uploaded with the text:
Tonight we have no house, it's bombed & I got in rubble. I saw deaths and I almost died. - Bana #Aleppopic.twitter.com/arGYZaZqjg

— Bana Alabed (@AlabedBana) November 27, 2016
A following tweet posted later on Monday read:
Under heavy bombardments now. In between death and life now, please keep praying for us. #Aleppo

— Bana Alabed (@AlabedBana) November 28, 2016
Reuters could not immediately verify the events described by Bana and her mother.
The Syrian army and its allies on Monday announced the capture of a swathe of eastern Aleppo from rebels in an accelerating attack that threatens to crush the opposition in its most important urban stronghold.
Contacted by Reuters, Fatemah said the family were staying with neighbours while they looked for another house.
"We wait & see because right now we are fighting for life," she said in English via Twitter.
Bana's past tweets have gained responses from various users including "Harry Potter" author J.K. Rowling, who has sent the young girl eBooks of the best-selling series.
Rowling has re-tweeted Bana's latest messages.
(Reporting By Eleanor Whalley; Writing by Marie-Louise Gumuchian; Editing by Richard Lough)
© Thomson Reuters 2016