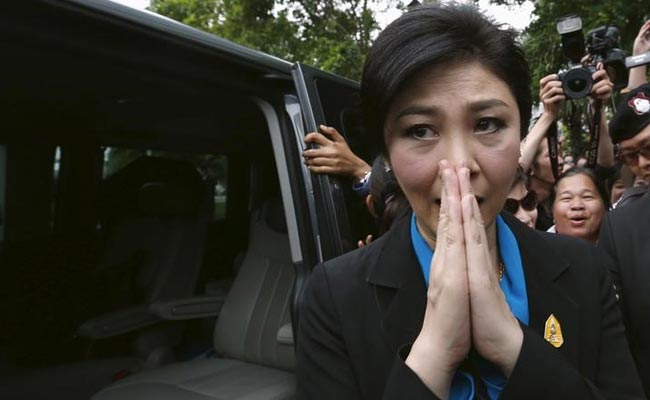 Bangkok:
Thai soldiers warned the daughter of an assassinated dissident commander today not to do anything to disturb the country after she staged a symbolic protest in support of ousted former Prime Minister Yingluck Shinawatra.
The army seized power in a coup in 2014, toppling Yingluck's government in another convulsion in a decade of confrontation between the establishment and Yingluck's brother, former telecoms tycoon and ousted populist premier Thaksin Shinawatra.
The military government has banned gatherings and put controls on the media while Thaksin remains abroad to avoid a graft conviction he says was politically motivated and Yingluck faces her own corruption charges that she too denies.
Khattiyah Sawasdipol, daughter of a prominent pro-Thaksin military commander, posted a picture of herself on Sunday wearing a red shirt, the colour Thaksin and his supporters adopted to set themselves apart from the yellow of their royalist, pro-military establishment rivals.
She also posted comments critical of junta leader Prime Minister Prayuth Chan-ocha, prompting the warning.
"They wanted to meet me over comments I posted and told me not to do anything to disturb the country," Khattiyah told Reuters.
"I said I am a politician and if I see something wrong I need to speak."
Junta spokesman Colonel Winthai Suvaree declined to comment.
A sniper shot dead Khattiyah's father, Major-General Khattiya Sawasdipol, on a Bangkok street while he was overseeing a protest by Thaksin's supporters against the then pro-establishment government in May, 2010. No one has been charged with his killing.
Thaksin has been keeping a low profile, and has told his supporters to bide their time, since last year's coup but on Sunday he also posted a picture of himself wearing red.
"I, like the red shirts, want to see the return of justice and democracy," Thaksin said on Instagram.
"Whoever wants to win the heart of red-shirted people can do it easily. You don't have to use a gun Just use a kind heart," he said.
Any call by Thaksin to his disgruntled supporters to confront the military would ramp up tension at a time the country is apprehensive about the health of ailing of King Bhumibol Adulyadej.
There is no sign Thaksin has any intention of doing that but the military is wary, an analyst said.
"Thaksin's message hit a chord of the reality which is there has been no attempt to address the grievances of the red shirt movement since the coup," said Sunai Phasuk, researcher at Human Rights Watch.
© Thomson Reuters 2015