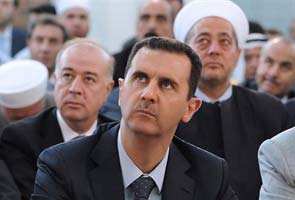 London:
Syrian President Bashar al-Assad and his family are living on a warship guarded by the Russian navy, a British daily said.
The Daily Mail said the move, said to have come about after the president lost confidence in his own security detail, sees Assad travel by helicopter to Damascus to attend meetings in his presidential palace.
Intelligence sources told Saudi daily paper al-Watan that Assad was being protected by Russia, which effectively amounted to political asylum.
Al-Watan was told Assad's fear of advances by the opposition in Damascus was one of the reasons why he moved to the ship.
His current position is also thought to allow a quick evacuation to Moscow if it became necessary, the Mail said.
Russia has remained an ally of the Assad regime since the popular uprising in March 2011, during which the United Nations says more than 60,000 people have been killed.
Russia also endorsed a speech by Assad where he offered an end to the crisis by calling national elections and forming a new government.
Assad unveiled what he said was a peace initiative to end the uprising against his rule.
But he said he would not talk to those he called "extremists" and "who only understand the language of terrorism" or to "puppets" of the West.