A reservation at the new Trump International Hotel in the nation's capital will carry lots of baggage this fall - and not just the kind you would need to haul around the $700 (at least) a night it is going to cost to stay at the swish, new place.
Emotionally and politically, the hotel that bears Donald Trump's name and opened Monday inside the Old Post Office Pavilion is already sparking fireworks. And protests right in front of the place.
Stay at a Marriott. Book a Hyatt. So what? But consider a reservation at a Trump place - Hotels.com has the D.C. property just down the street from the White House on Pennsylvania Avenue at $761 for this Saturday night - and it gets all kinds of complicated. Endorse the GOP presidential nominee's hotel?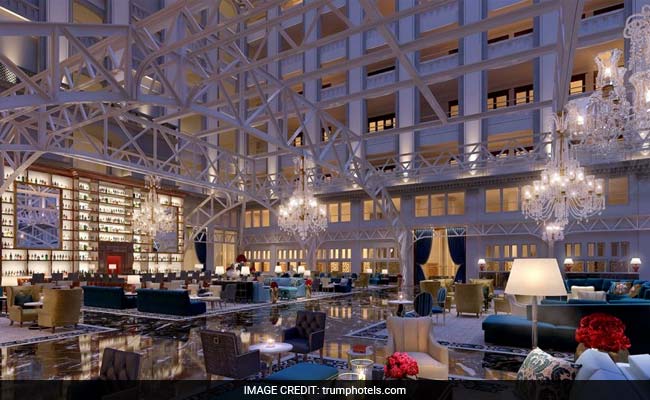 "Never. Nope. Not a chance," said Becky Acton, who raised her middle finger at the place as she biked by Sunday night, on the eve of its soft opening. "I would never stay there. No matter what it costs."
What about its bar, where wine is sold by the spoon? Or the daily champagne sabering, where bottles are opened by sword?
"No interest," she said.
Acton is visiting D.C. from Columbia, Missouri. And she stopped to gape at the Trump hotel as construction workers - many of them Latinos who have been on the receiving end of Trump's slurs against immigrants - rushed around in the dark, tile saws screaming when they cut marble outside the front doors in the final, frantic preparations.
She shook her head as she pedaled away.
The Klyder family had a different take.
"It's beautiful, like a castle," said Emily Klyder, 11, as she photobombed mom's numerous pictures of the new hotel Sunday night.
The hotel, for them, is a symbol of what Trump can do for America - bring jobs, glamour and decadent elegance to a mothballed government building.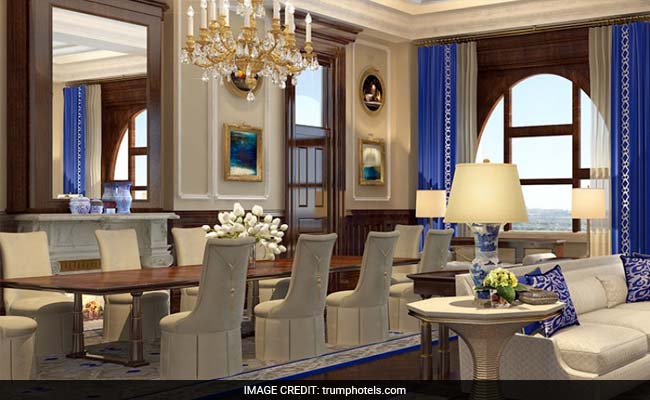 The family, in town from Gaylord, Michigan, said they opted for a cheaper place outside the city on their trip to see the sights.
But once they saw the Trump hotel, they rethought everything, despite the crazy expensive room rates.
"I might spend that, to make a statement," said John Klyder, a hotel owner himself who said he is voting for Donald Trump in the November election.
"He's better than the alternative," said his wife, Christa Klyder.
Of course, they did not know about all of the controversy already surrounding the palatial, Romanesque revival landmark, with a bell tower that is one of the tallest structures in the nation's capital.
Trump is suing the city over the tax bill for the building, which he does not want to pay. (Now there's a surprise.) He and the two chefs who pulled out of their opening restaurants at the hotel because of Trump's ugly rhetoric on immigrants are suing and countersuing each other. And a free-speech advocacy group is suing the District of Columbia because a valet traffic-pattern exception that the city allowed for the hotel may also give Trump staff members license to curb protesters on Pennsylvania Avenue, which is America's boulevard, according to my colleague Colbert King.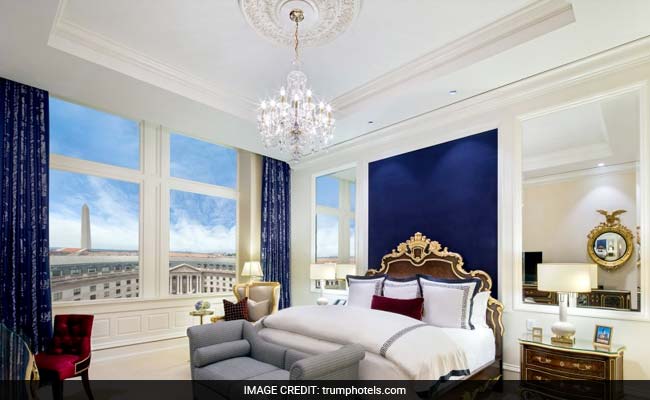 The hotel is full of baggage. Which is the business-as-usual part of the Trump empire that some folks often forget.
But not Pedro Olaniyan. The 62-year-old immigrant from Nigeria was somber as he took pictures of the hotel on its final night of construction.
"This man, Trump. He says he wants to make America great again. He says, 'We've got to take our country back.' From whom?" said Olaniyan, who left Nigeria more than 30 years ago. "This country has been great to me. What does he mean?"
Olaniyan's oldest son was a linebacker on UCLA's football team. Full ride.
His daughter is now getting her PhD at Temple University.
And his younger son just got a scholarship to the University of Connecticut.
He has worked as a night security guard in downtown Washington for more than 20 years. His longtime co-worker is a Muslim who never fails to say, "Merry Christmas," to him.
He does not see the problems with America that Trump sees. And looking at the Trump hotel construction, day after day, with that giant sign - Trump 2016 - has been difficult for him to watch.
"I don't hate (Trump) as a person," Olaniyan said. "I hate what comes out of his mouth."
Would he stay there, even if he got a free night?
"Never," he said.
Same for a homeless woman, who was going from bench to bench Sunday, looking for a place to bed down for the night. She would not consider staying there, either.
"Not in his place," she said.
Other #NeverTrumpeters who passed by said the place looked nicer than they had expected.
"It doesn't look like some of his other places," said one woman, who said she would consider staying at the posh hotel after the election. Then she clarified: "After he loses."
© 2016 The Washington Post
(This story has not been edited by NDTV staff and is auto-generated from a syndicated feed.)
Get Breaking news, live coverage, and Latest News from India and around the world on NDTV.com. Catch all the Live TV action on NDTV 24x7 and NDTV India. Like us on Facebook or follow us on Twitter and Instagram for latest news and live news updates.