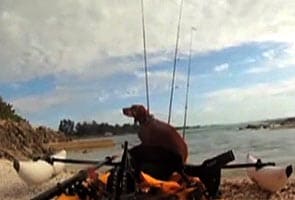 Florida:
A man kayaking in the Gulf of Mexico rescued an injured dog that was swimming offshore after fleeing when his owner was struck and killed by a car.
The bizarre and sad tale unfolded on Saturday afternoon on Siesta Key, an island community about 40 miles (65 kilometers) south of St. Petersburg that boasts some of Florida's most beautiful white sand beaches.
According to the Florida Highway Patrol, 53-year-old Donna Chen was jogging with her dog Barney, a Hungarian Vizsla.
As the pair jogged down the sidewalk, patrol officers said 22-year-old Blake Talman drove away from the nearby beach while drunk, got into one crash, and then drove away.
That's when he struck Chen and her dog, officers said.
Chen died at the scene, but the dog ran away.
Later that afternoon, Rory O'Connor - a tourist from Bellingham, Washington - was kayaking and fishing near Siesta Key when he spotted a dog swimming about a half mile (800 meters) offshore.
"I pulled him into the kayak and he was really scared," said O'Connor.
"He was shaking a lot. Had a bunch of wounds on his leg and was bleeding," he said in a phone interview with Associated Press.
O'Connor captured the rescue on a video camera that he uses to record his fishing adventures.
O'Connor took the dog ashore to try and find its owner.
His sister, who was on the beach with her family, identified the canine as a Vizsla and suggested the dog might have a microchip.
The family then took the dog to a nearby vet.
The dog did have a microchip, and the veterinarian's office contacted Chen's family - and learned about the accident.
It's still a mystery how or why the dog ended up a mile from where the crash happened and in the water.
O'Connor said Barney is recovering, and said he is thankful that the dog is back with the Chen family.
Authorities say Talman was charged with Driving Under Influence (DUI) manslaughter and is being held at the Sarasota County Jail without bail.
Police declined to comment on the dog because the case is a vehicular homicide and is under investigation.