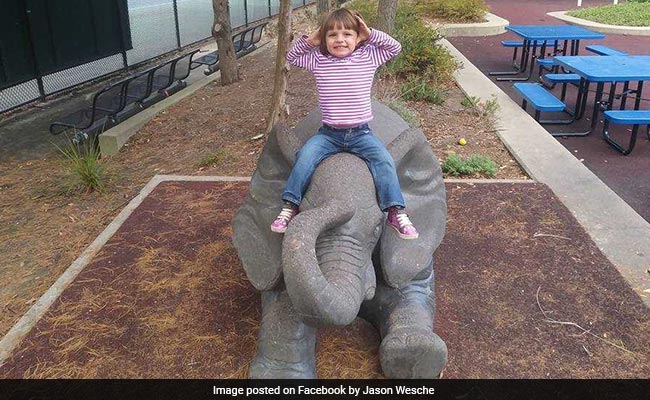 Days after a brutal beating from a babysitter allegedly left 3-year-old Hannah Wesche unresponsive and gasping for breath, the toddler has died, her family said.
Hannah's family said in a statement on Facebook that "despite every effort from doctors" to save her, the child was pronounced dead at 12:15 a.m. March 18.
"She was a big part of our family. She meant everything to everybody. This is just an extremely difficult time. We just hope to God she is in heaven with him and ask for continued prayers," her father, Jason Wesche, said in a statement to ABC affiliate WCPO.
The news comes 10 days after police said babysitter Lindsay Partin, 35, admitted to "striking the child" before Hannah started to lose consciousness.
Partin was initially charged with felonious assault and child endangering, accused of causing "serious physical harm to a child by shaking her," according to a criminal complaint. Butler County Prosecutor Michael Gmoser said Monday that in light of the toddler's death, the charge will be upgraded to felony murder, which does not require an intent to kill, only the knowledge that the accused person's conduct could result in another person's death.
Gmoser said the charge will be presented to a grand jury this week.
Partin's attorney could not immediately be reached for comment.
Wesche said he took his daughter to Partin's house on his way to work March 8, as he had for several months. But only minutes after dropping her off, he said, Partin called him, saying Hannah had passed out and she didn't know why. Wesche said he rushed back to the sitter's house in Hamilton, Ohio, about 30 miles north of Cincinnati.
When he saw his child, he said, "I thought she was dying."
"When I picked her up, she was gasping for breath. And every time I'd yell her name, she'd take a deep breath," Wesche said last week in a phone interview.
Wesche said he immediately told the babysitter to call for help. Partin told the emergency dispatcher that the child was lying on her back, gasping for breath.
"Hurry, she's bad," she said, according to 911 audio obtained by the Cincinnati Enquirer. "Something's wrong."
Partin told the dispatcher that Hannah had fallen "pretty bad" the day before and initially explained to investigators that the child had fallen and hit her head while playing in the garage, the Enquirer reported.
But during the investigation, police said, the sitter admitted to "striking the child" before her fall, according toa statement from the Butler County Sheriff's Office.
Wesche later likened Hannah's injury to shaken baby syndrome, a brain injury caused from violently shaking a child, according to the Mayo Clinic.
For more than 13 minutes on that Thursday morning, Hannah's father and babysitter could be heard on the 911 tape, pleading with the child to breathe as they waited for paramedics to arrive.
"Hey, look at Daddy. Hannah. Look up," Wesche told his daughter. "Hannah, hey, Hannah. Breathe. Breathe. There you go. Keep breathing."
He paused to answer questions from the dispatcher, then he continued to coax his child to try to take a breath.
"Hannah, look at Daddy," he said in a gentle voice. "What's the matter? Hey, what's the matter? Huh? Look at Daddy. Can you look at Daddy? Baby."
He said he considered a seizure, then a brain aneurysm. He later learned from authorities that Partin had allegedly "punched" his daughter and "violently shook her" until she lost consciousness, he said.
When first responders arrived, Hannah was unresponsive with bruises on her head and face, according to the sheriff's office. She was rushed to a hospital, then flown to Cincinnati Children's Hospital Medical Center with life-threatening injuries, authorities said.
Wesche wrote on aGoFundMe pagefor Hannah that what happened is every parent's "worst nightmare."
"Hannah was born on January 11, 2015," Wesche wrote on the page, which had raised more than $8,500 by Monday morning. "I fell head over [heels] for her and she stole my heart. Raising Hannah and watching her blossom into a bubbly fun loving little girl has been more than I could ever ask for. I am beyond devastated that I am having to say goodbye to my Angel. This is every parents worst nightmare and I will fight for my baby and justice will be served."
(This story has not been edited by NDTV staff and is auto-generated from a syndicated feed.)