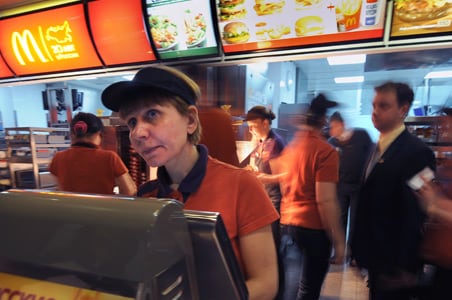 Highlights
Sarah Douglas stopped by at a McDonald's drive-through for coffee
She took a sip, spit the toxic drink and went to complain
The staff told her that cleaning lines were connected to the machine
Lethbridge, Canada:
A pregnant woman from Southern Alberta was served cleaning agent instead of her ordered latte at a McDonald's drive-through in Lethbridge in Canada.
Sarah Douglas, a mother of two, was on her way to a baseball tournament with her son when she decided to stop at the facility for a coffee, The Star reported.
The first sip was enough to tell Ms Douglas that something was wrong with the drink. She immediately stopped to spit the toxic drink and decided to go back and complain.
On filing a complaint, she learnt from the staff members that two cleaning lines were linked to the coffee machine.
Ms Douglas was taken to poison control after she contacted Alberta Health Services.
Later, an apology was issued by the spokesperson for McDonald's on behalf of Dan Brown, the owner of the franchise.
Mr Brown also issued a statement calling the incident "unfortunate".
He further added that the restaurant staff has taken immediate action to review and correct its cleaning procedures and added new signage as a reminder to avoid similar future possibilities, said the report.