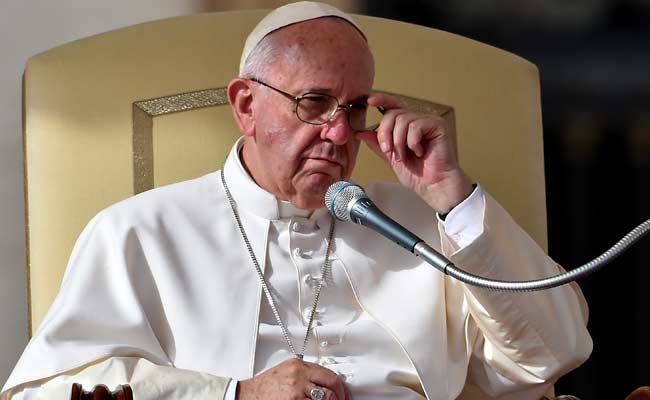 Vatican City:
Pope Francis is determined to forge ahead with his reform of the Catholic Church despite an embarrassing leak scandal which risks undermining his clean-up bid, according to the pontiff's chief of staff.
"I have just seen the pope. His words were: onwards with serenity and determination," Substitute for General Affairs Giovanni Angelo Becciu, whose role is akin to a chief of staff and who sees Francis daily, said Tuesday on Twitter.
Nunzio Galantino, head of the Italian Bishops' Conference, told TV2000 the pope must be feeling betrayed by an affair which lead to the arrest this weekend of two suspected moles for allegedly leaking confidential documents to journalists revealing gross financial mismanagement at the Vatican, including using charity funds to refurbish cardinals' homes.
Francis was tasked by his cardinal electors to stamp his authority on the bickering Curia, the Church's governing body, and clean up the Vatican bank but the fresh leaks looked set to fuel criticisms of his reform programme.
Some religious watchers have suggested the leaks are a bid by revengeful mudslingers to slow the pontiff's hand as he attempts to bring transparency to the secretive centuries-old institution.
"I put myself in his shoes. No child of the Church, faced with such attacks, could remain indifferent," Galantino said.
"Some people are clearly afraid of the renewal process the pope is carrying out."
Two books by Italian investigative journalists set to be published today claim Church foundations for sick children act as bank accounts for cardinals while the murky Vatican bank continues to shelter suspected criminals.
Emiliano Fittipaldi and Gianluigi Nuzzi have not revealed their sources. A Vatican statement Monday, however, appeared to link the arrest of Spanish priest Lucio Angelo Vallejo Balda and Italian PR consultant Francesca Chaouqui to the new books.
While Vallejo Balda, 54, is in jail, Chaouqui, 33, was released after assuring investigators of her cooperation.