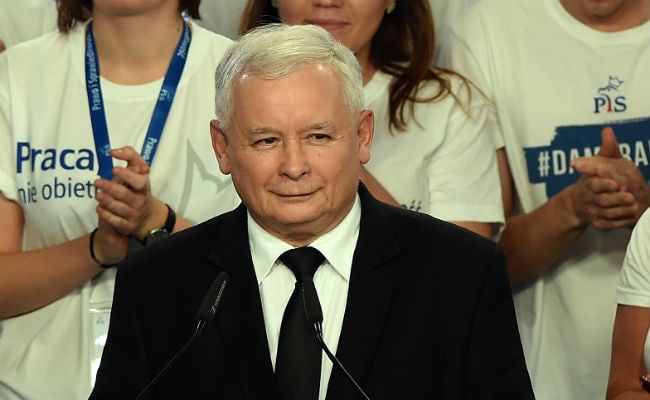 Warsaw:
The leader of Poland's ruling conservative party, ex-premier Jaroslaw Kaczynski, lashed out at the country's top Constitutional Court on Sunday, accusing it of trying to block government policies in an escalating row over which judges can serve on the bench.
Kaczynski, who is neither president nor prime minister but is widely thought to pull the strings in the governing Law and Justice (PiS) party, said he wanted to break up the "band of cronies" at the nation's highest judicial body who he accused of only protecting their own interests.
He fired the broadside at a rally outside the Constitutional Court attended by some 20,000 PiS supporters, a day after about 50,000 opposition demonstrators took to the streets of Warsaw to protest against the new government, which only took office a month ago.
The political tensions centre around efforts by the ruling party to install five judges of its own choosing at the 15-member court, and refusing to recognise judges who were appointed by the previous parliament when the liberal Civic Platform (PO) party was in power.
The crisis worsened when PiS-backed President Andrzej Duda ignored a court order to swear in three judges picked by the previous administration, and instead swore in his own judges in a hastily-arranged late-night ceremony, drawing criticism from the opposition, the court itself and legal experts.
But Kaczynski accused the court of trying to stop the PiS from keeping its electoral promises on issues such as family benefits, lowering the retirement age and offering free medicine for people aged over 75.
"We won the elections and now we are being refused the right to introduce laws," he told the crowd in the rain-soaked capital, on a day that also marked the 34th anniversary of a brutal communist crackdown on Poland's pro-freedom Solidarity movement.