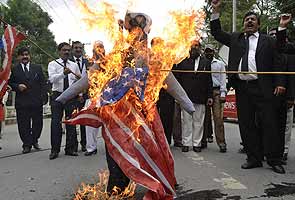 Lahore:
Pakistani police have registered a case against over 6,000 unidentified people on charges of terrorism, ransacking and attempted murder during a protest against an anti-Islam film in Lahore, officials said on Sunday.
"We have arrested 36 people so far and we will use footage from TV news channels and CCTV cameras to identify the other culprits," Lahore Police spokesman Niyab Haider said.
The 36 people arrested on charges of inciting violence during Friday's protest against the anti-Islam film, were remanded to judicial custody for a fortnight on Saturday by an anti-terrorism court.
The 6,000 unidentified people have been charged with terrorism, ransacking and torching public and private property, attempted murder and attacks on police, Mr Haider said.
About 30 policemen were injured during the violent protests in Lahore.
Unruly mobs damaged public property and set ablaze a police post outside the US Consulate, forcing the government of Punjab province to call in paramilitary Pakistan Rangers to control the situation.
During yesterday's hearing in the anti-terrorism court, the counsel for the 36 arrested people had argued that police had failed to arrest those who had damaged public property and attacked policemen.
He said those who were arrested were innocent as they had been peacefully protesting against the anti-Islam film.
The counsel asked the judge not to remand them to police custody and to send them on judicial remand so that they could file bail petitions.
The court, after hearing both sides, rejected the police's request and sent the accused to jail on judicial remand for 14 days.
Sunni Ithad Council chairman Sahibzada Fazal Karim has alleged that activists of banned religious and extremist groups were behind Friday's violence.
Twenty-three people were killed and property worth millions of rupees was destroyed during the countrywide protests sanctioned by the government, which had declared Friday as the "Love the Prophet Day".