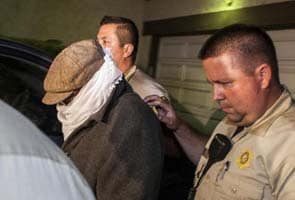 Los Angeles:
The man behind a film that stoked anti-US protests across the Muslim world was due for release from federal custody in California on Thursday after serving time for probation violations stemming from his role in making the video.
The 56-year-old Egyptian-born Coptic Christian, Mark Basseley Youssef, gained public notice for the crudely made 13-minute anti-Islam video he produced in Southern California that portrayed the Prophet Mohammad as a fool and sexual deviant.
The film, circulated online under several titles including "The Innocence of Muslims," touched off a torrent of anti-American demonstrations in Arab and Muslim countries, where many consider any depiction of the Prophet as blasphemous.
The start of the unrest on September 11, 2012, coincided with an attack on US diplomatic posts in the Libyan city of Benghazi that killed four Americans, including the US ambassador to Libya. Links between the Benghazi assault and Youssef's film have since been debunked.
Youssef, a former gasoline station owner who previously served time for a 2010 bank fraud conviction, was sent back to prison last year after admitting that he breached the terms of his probation in connection with the making of the film.
Federal prosecutors insisted his arrest last September had nothing to do with the film's content but with conduct that violated the terms of his probation, such as his use of aliases and the Internet, in the course of making the video.
Youssef, identified in some public records by his birth name, Nakoula Basseley Nakoula, received a 12-month term in November, but earned credit for the six weeks he already had spent in jail since his arrest, Bureau of Prisons spokesman Chris Burke said.
After a two-month stint at the federal detention center in Los Angeles, Youssef served the bulk of his sentence, about four months, in a federal prison in La Tuna, Texas. He was transferred to an undisclosed Los Angeles-area halfway house in late May to complete his term, Burke said.
He was due to be freed from federal custody altogether on Thursday, but will remain under the supervision of probation officials for the next four years, Burke said.
American cast members said after the video came to light that they had been duped into appearing in a film they believed was supposed to be an adventure drama called "Desert Warrior."
At least one actress sued Youssef for fraud and brought a copyright claim against YouTube, seeking a court order to force removal of the clip from the online video site, but a judge refused her request.
Youssef said in a New York Times interview last November that he made the film to reveal what he called "the actual truth" about the Prophet Mohammad and to raise awareness of violence committed "under the sign of Allah."
But in a CNN interview last month, Youssef said he "never thought my movie can cause anyone trouble or anyone can get killed from my movie."
© Thomson Reuters 2013