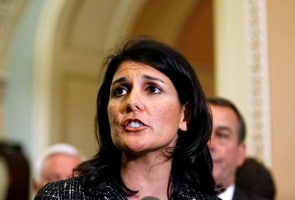 Columbia:
Nikki Haley has taken the oath of office, becoming South Carolina's 90th Governor and the first woman to run the state.
South Carolina Chief Justice Jean Toal administered the oath under sunny skies but in near-freezing temperatures on the Statehouse steps.
Dressed in a bright, white overcoat and with husband Michael and their two children by her side, the 38-year-old Republican became the nation's second Indian-American Governor. Other constitutional officers also took their oaths of office.
The festivities began earlier in the day with a bagpipe procession and prayer service at Trinity Cathedral across the street from the Statehouse. The procession before the swearing-in was slightly delayed when a law officer collapsed, but officials later said the officer would be OK.