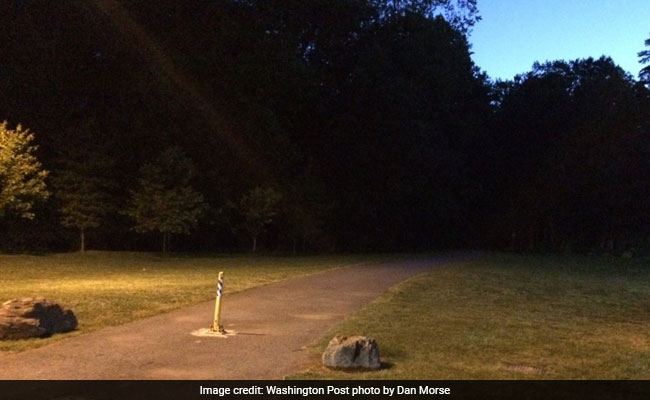 Christian Villagran Morales strolled a path into a darkening, densely wooded park. At his side was a woman he had met days earlier.
That warm summer night, just north of Washington, held promise for the 18-year-old: The woman had said she wanted to have sex.
Lying in wait, 100 yards away, were MS-13 gang members. They knew the woman. And they'd helped her plot the ruse to draw in Villagran Morales.
The assailants pounced as the pair arrived. They pulled him into the woods, fought him and stabbed him 153 times.
The brutal murder in June 2016 of Villagran Morales - a cheerful, well-like landscaper who'd recently moved to Maryland - was one of five MS-13-related killings over 14 months in Montgomery County by a reinvigorated gang. Details of his death have been laid out in two guilty pleas from teenagers who took part.
Unlike other suspects in the series of county cases, who were recent arrivals to the United States, the woman who has admitted that she lured Villagran Morales to his death was born and raised in Montgomery County. Vanesa E. Alvarado, now 20, is due in court Tuesday to be sentenced.
She faces up to 40 years in prison, after pleading guilty to first-degree murder and conspiracy to commit first-degree murder. After she led the victim to other gang members, according to prosecutors and court records, she stepped back, shouted encouragement and laughed.
"Even after the murder," Assistant State's Attorney Robert Hill wrote in court papers last week, "Ms. Alvarado showed so little regard for the life of her victim that she came back to the crime scene to show her friends the gang's handiwork."
Court filings in Alvarado's case do not detail how she got involved in MS-13, although make clear that she had become friends with members who lived near her in Gaithersburg.
Alvarado, the oldest of six children, left school in the ninth grade, according to court records filed by her attorney, Timothy E. Clarke. She has two children, and has worked at a sandwich shop and for a company that cleans apartments, the records state.
Before the murder, Alvarado was using cocaine and marijuana "to a significant extent," according to Clarke's filing, a problem that led to her one previous arrest, on a charge of drug possession.
Clarke will ask for a prison term of 25 years. "Vanesa regrets her role in this criminal event and is certainly remorseful," he wrote.
Four others were charged in the killing. The youngest, Juan Gutierrez-Vasquez, 16 at the time of the death and charged as an adult, pleaded guilty this month, and awaits sentencing. Trials are pending in Montgomery County against Jose Coreas-Ventura and Josue Cuadra-Quintanilla. An attorney for Coreas-Ventura could not be reached. Ron Earnest, an attorney for Cuadra-Quintanilla, said his client is not guilty.
The Montgomery case against Oscar Delgado-Perez was dropped. Federal prosecutors charged him with immigration violations, to which he has pleaded guilty, according to court records. They also charged him with conspiracy to participate in a racketeering enterprise, according to court records. That case is pending. One of his attorneys, Alfred Guillaume, declined to comment.
For the family and friends of Villagran Morales, the extreme violence of his death has made it that much more haunting. Four people close to him began a search when they couldn't reach him for a day and now live with images of his rain-soaked body, which they found in the park before calling police.
Villagran Morales was born in a region of Guatemala near the Honduran border. His mother and father migrated to the United States, leaving him in the care of a grandmother. He came north in 2013, said his mother, Bertha Morales.
"At least bringing him here, nothing will happen to him," she recalled telling her mother. "He'll study and work and be safe."
He crossed the border, made his way to his father's home in Maryland, lived there, and then moved in with his mother in New Jersey, Morales and other relatives said. He went to school for a while, but was more interested in working, and got a job on a landscaping crew.
"He always asked if I wanted to go back to Guatemala," his mother said. "He said he wanted to work here for seven or eight years, make some money, and then go back to Guatemala. He wanted to build a house, have a little farm."
Outside of his job, he liked to work on cars, buy toys for his brother and play soccer. In early 2016, after turning 18, he told his mother he wanted to move to Maryland, where he'd lined up a landscaping job that paid better: $1 more per hour. "I didn't want him to go, but he said it would only be for a short while," his mother said.
She drove him to Maryland in April of 2016 and he moved in with a cousin. He generally left for work at 7 a.m., returned 12 hours later, and often bicycled to a nearby store to buy juice or candy. It was at the store, his family believes, that he met Alvarado.
Within days, he ran into Gutierrez-Vasquez, Cuadra-Quintanilla and Coreas-Ventura, according to prosecutors who say all were members of a local MS-13 gang. The three asked if he was a member of a gang.
In a later interview with detectives, one suspect would say Villagran Morales responded by saying, "Yes, but I'm not going to tell you which gang." He was asked if he could demonstrate hand signs for any gangs. Villagran Morales responded by flashing hand signs associated with the 18th Street gang, according to prosecutors.
The three said nothing then, according to prosecutors' accounts, but grew angry, convinced they'd come across a rival.
Prosecutors contend that one called the head of their local MS-13 gang, putting the call on speaker phone, where the leader "was enraged that the group had not killed Villagran Morales." He "demanded that they kill him" and was told it would be taken care of the next day, according to prosecutors who allege that the gang members put in motion the plan to have Alvarado draw Villagran Morales to Malcolm King Park with the promise of sex.
Although he was only about 5-foot-2, Villagran Morales was powerfully strong from weightlifting. He fought off his attackers, until their numbers overwhelmed him as he begged for his life, court filings show.
When he didn't return later that night or the next day, his family members and friends grew worried. They couldn't reach him on his phone, began calling hospitals, and went to search the park.
Police and prosecutors said they have found no evidence that Villagran Morales was in a gang. They don't know why he flashed the 18th Street sign other than perhaps in a naive effort to fit in. "Villagran Morales was not a member of a gang," Hill, the prosecutor, said in a recent court filing.
The teenager was buried in a cemetery near his mother's home in New Jersey.
That is one small comfort, she said.
Her son could be among the MS-13 victims buried in woods, their bodies never found, their parents never certain what happened.
"Some mothers," she said, "don't even know that their kids have been killed."
(Except for the headline, this story has not been edited by NDTV staff and is published from a syndicated feed.)