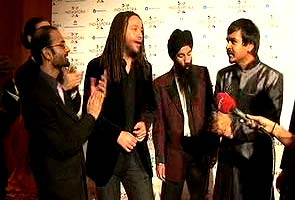 Washington:
No, Obama did not attend but his half-sister Maya Soetoro-Ng did. As did many Congressmen, a senator or two, Ambassadors, actors and doctors to celebrate US President Barack Obama's second term in office with the first ever Indian-American inaugural ball.
According to organizers, it signals the coming of age of the three million-plus community in the United States.
"It is a reflection of how important India is and how important Indian-Americans are to the fabric of the nation. "Maya Kassandra Soetoro-Ng, the second half-sister of Obama, said.
"It is very exciting to serve in an Administration that has so many great Indian-Americans serving," said Raj Shah, Administrator of USIAD, the highest ranking Indian-American in the Obama Administration. President Barack Obama has the distinction of appointing the largest number of Indian-Americans in any presidential administration ever.
Not only members of the community serving in the Obama Administration attended the inaugural ball, but the event was also marked by the presence of a large number of Congressmen, and Governors from both the Republican and Democratic parties.
Republican Congressman Ed Royce, Chairman of the powerful House Foreign Relations Committee, said his presence a reflective of the bipartisan nature of support for India-US.
"This is the first ball...it will be first of many," Congressman Dr Ami Bera, the only Indian-American lawmaker in the current Congress, said.
Bera is only the third ever Indian-American Congressman to have ever been elected to the US Congress.
Among other prominent attendees at the inaugural ball were Nirupama Rao, the Indian Ambassador to the US; N Chandrasekaran, CEO Tata Consultancy Services (TCS), lawmakers Tulsi Gabbard (first Hindu Congresswoman), Mike Honda, Judy Chu, Greg Meng, Vinai Thumalapally (the first Indian-American Ambassador); and governors Jack Markell (Delaware) and Martin O'Malley (Maryland).